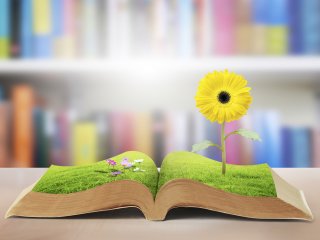 Course Type:
Instructor Led - 4 Weeks Long
Description
Objectives
Outline
Materials
System Requirements
Have you ever faced writer's block? Transforming your visions onto paper doesn't have to be difficult. Our Creativity Training for Writers course gives you the knowledge and tools to help unleash your creative side. We will discuss ways for breaking through writer's block and methods for jumpstarting creativity. The basics of writing essays, memoirs, short stories and books and ways to get your name out there to publishers, magazines, and writer's groups are covered. Whether you are hoping to write a short story or a novel, Creativity Training for Writers will help you live the creative life you crave through the medium of writing. 
* You have 4 weeks to complete this course from date of your enrollment.
** Course Subject to Change.
After completing this course, you should be able to:
Identify writer's block and how to overcome it
Recognize steps for writing memoirs, short stories and essays
List ways to find an audience for your topic
Recall tips for channeling your creative side, avoiding procrastination and becoming focused
Creativity Training for Writers Module 1
Working through Writer's Block
Writer's block refers to something "contracted" by writers who cannot write a single creative word. If a writer cannot overcome this, they tend to lose confidence in their abilities and give up on writing entirely. This week will review reasons why a writer might get writer's block and tips for overcoming it. We discuss problems that keep you from creating, such as your own attitude and those of others. In order to fully create, you must unleash your passion for writing. This module discusses how to fully embrace your creative side to get your writing flowing.
What is Writer's Block?
Diaries & Journals as Anti-Writer's Block Tools
Other Tips for Breaking Writer's Block
Problems That Prevent You from Creating
How to Give Yourself Permission to Create
Creativity Training for Writers Module 2
Get in Touch with Your Creativity
This week we discuss methods for jumpstarting your creativity, such as practicing writing, finding a comfortable location to write and scheduling a dedicated timeframe for writing. Procrastination is a huge reason why creativity suffers. Avoiding procrastination is one of the best things you can do for yourself as a writer. In this module we also look at different tips for turning the first draft of your personal essay into a good piece of literature.    
Methods for Jumpstarting Your Creativity
Avoiding Procrastination
Creative Focus
Types of Personal Essays
General Tips for Writing Essays
Creativity Training for Writers Module 3
Memoirs and Short Stories
Whether you want to write a memoir, autobiography or a short story, this week will provide great insight into the basic features of each and the steps needed to achieve writing them. Whether you choose to write an autobiography or a memoir depends on the scope of what you want to say and the amount of time you want to write about. This module also introduces you to different parts of a short story and how it compares to a novel.
Memoir vs. Autobiography
How to Tackle a Memoir
Ideas for Memoir Topics
Short Stories vs. Novels
Steps for Writing a Short Story
Creativity Training for Writers Module 4
Writing a Book and Finding an Audience
Once you've experimented with writing short stories, the next natural move for your creative talents is to write an entire novel. This week reviews the parts of a novel, such as the characters, plot and setting. As you wrap up the final touches of your novel or nonfiction book, you need to make some decisions concerning where and how you plan to publish your work. We will cover different periodicals, magazines and journals and we will also explore steps for self-publication.   
The Parts of a Novel
The Nonfiction Book
Finalizing Your Book
Writer's Groups
Magazines, Journals & other Periodicals 
Ed4Career is committed to being both environmentally conscious and making it easier for you to study! We're making your education mobile! All of our textbooks are now provided as eTextbooks. You can access them on your laptop, tablet, or mobile device and can study anytime, anywhere.
The move away from physical books to eTextbooks means you get the latest, most up-to-date version available. This also makes your training more accessible, so you can study anywhere you have your phone or tablet. The best part is that all materials are included in your training cost so there are NO extra fees for books!
Internet Connection
Broadband or High-Speed - DSL, Cable, and Wireless Connections
*Dial-Up internet connections will result in a diminished online experience. Classroom pages may load slowly and viewing large audio and video files may not be possible.
Hardware Requirements
Processor - 2GHz Processor or Higher
Memory - 1 GB RAM Minimum Recommended
PC Software Requirements
Operating Systems - Windows 7 or higher
Microsoft Office 2013 or higher. Also, you could use a general Word Processing application to save and open Microsoft Office formats (.doc, .docx, .xls, .xlsx, .ppt, .pptx)
Internet Browsers - Google Chrome is highly recommended


Cookies MUST be enabled
Pop-ups MUST be allowed (Pop-up Blocker disabled)

The Kindle Reader App or VitalSource Bookshelf App are needed for many of our courses (No special equipment needed. This can be downloaded for FREE onto your computer.)
PowerPoint Viewer (if you do not have PowerPoint)
QuickTime, Windows Media Player &/or Real Player
MAC Software Requirements
Operating Systems - Mac OS x 10 or higher with Windows
Mac office programs or a Word Processing application to save and open Microsoft Office formats (.doc, .docx, .xls, .xlsx, .ppt, .pptx)
Internet Browsers- Google Chrome is highly recommended


Cookies MUST be enabled
Pop-ups MUST be allowed (Pop-up Blocker disabled)

The Kindle Reader App or VitalSource Bookshelf App are needed for many of our courses (No special equipment needed. This can be downloaded for FREE onto your computer.)
PowerPoint Viewer (if you do not have PowerPoint)
Adobe PDF Reader
Apple QuickTime Media Player