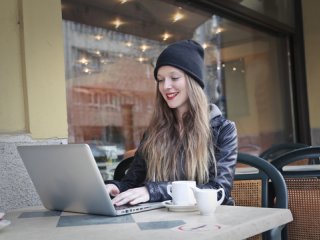 Course Type:
Instructor Led - 4 Weeks Long
Description
Objectives
Outline
Materials
System Requirements
A successful writer once said, "The art of writing is the art of applying the seat of the pants to the seat of the chair." Most likely, you won't be able to find a more accurate description of this discipline. Writers need to write, write, write! They can work on perfecting their creation in the rewriting process. Writing takes time, time essential for researching a topic, getting to know the audience, developing a theme and generating an outline. Time is required to formulate a first draft and vital for editing and rewriting the initial draft into final form. Throughout this course you will discover how to engage in writing that inspires readers and moves others in a meaningful way.
* You have 4 weeks to complete this course from date of your enrollment.
** Course Subject to Change.
After completing this course, you should be able to:
Identify strategies for creating the written word for your audience
Recall methods for stimulating your creativity and passion for writing
Define rules and proper technique for the basic building blocks of writing
Recognize the importance of editing and rewriting
Writing Essentials Module 1
Finding Your Muse
Because creativity can be so elusive, writers simply cannot afford to wait for inspiration to hit them over the head. Module 1 offers techniques for stimulating the creative juices and developing a passion for topics to write about.  This module stresses the importance of recognizing how quality writers work hard every day, writing as well as consuming the writing of other authors. Writers need to determine who they are writing for and research their target audience. By getting to know them, one is more capable of infusing their writing with tone, style and the specific details that will compel an audience to read the words from beginning to end.
The Inspiration of Writing
The Art of Creativity
Developing a Passion
Considering Your Audience
Understanding the Importance of Readers
Writing to Your Audience
Writing Essentials Module 2
Themes, Facts and Focus
Assembling a succession of meandering words without meaning or focus pretty much guarantees a quick exit for your readers and a failed attempt at writing. Module 2 conveys ways to achieve a writer's real objective — generating words that readers seek to consume. This lesson covers the importance of developing your topic, narrowing the focus and crafting a compelling theme or themes. This module addresses the critical aspect of supporting facts with evidence, whether it be statistics, descriptive examples or direct quotations and also offers tips for creating an organizational plan of writing that works for you.
The Theme or Focus
Support Claims with Facts
The Organizing Plan of Writing
Determining Your Needs
Search Strategies
Using Source Information
Writing Essentials Module 3
Basic Building Blocks
Module 3 focuses on the basic building blocks of writing and provides guidelines for writing introductions, conclusions and creating the best possible sentence structure in between. This module explores how paragraphs written for fictional pieces differ from paragraphs written for nonfiction works and also recommends several style guides to use as a reference for determining proper grammatical rules and techniques. Module 3 stresses the bottom line for excellent writing, concise writing that clearly communicates intention between writer and readers.
Introduction
Paragraphs
Conclusions
Sentences
Pronouns
Spelling
Quotes, Commas
Capitalization
Writing Essentials Module 4
Honing Your Manuscript
Module 4 emphasizes that rewriting your material with fresh eyes is an essential part of honing your manuscript into sharp focus. We are reminded that all writing is persuasive writing that requires research, study and preparation to back up our arguments. This module also encourages us to take criticism in stride when others are critiquing our work and to continue refining our prose into the perfection it deserves.
Editing Your Writing
Rewriting
Clarity & Conciseness
Rhetoric or Persuasive Writing
Conclusion
Ed4Career is committed to being both environmentally conscious and making it easier for you to study! We're making your education mobile! All of our textbooks are now provided as eTextbooks. You can access them on your laptop, tablet, or mobile device and can study anytime, anywhere.
The move away from physical books to eTextbooks means you get the latest, most up-to-date version available. This also makes your training more accessible, so you can study anywhere you have your phone or tablet. The best part is that all materials are included in your training cost so there are NO extra fees for books!
Internet Connection
Broadband or High-Speed - DSL, Cable, and Wireless Connections
*Dial-Up internet connections will result in a diminished online experience. Classroom pages may load slowly and viewing large audio and video files may not be possible.
Hardware Requirements
Processor - 2GHz Processor or Higher
Memory - 1 GB RAM Minimum Recommended
PC Software Requirements
Operating Systems - Windows 7 or higher
Microsoft Office 2013 or higher. Also, you could use a general Word Processing application to save and open Microsoft Office formats (.doc, .docx, .xls, .xlsx, .ppt, .pptx)
Internet Browsers - Google Chrome is highly recommended


Cookies MUST be enabled
Pop-ups MUST be allowed (Pop-up Blocker disabled)

The Kindle Reader App or VitalSource Bookshelf App are needed for many of our courses (No special equipment needed. This can be downloaded for FREE onto your computer.)
PowerPoint Viewer (if you do not have PowerPoint)
QuickTime, Windows Media Player &/or Real Player
MAC Software Requirements
Operating Systems - Mac OS x 10 or higher with Windows
Mac office programs or a Word Processing application to save and open Microsoft Office formats (.doc, .docx, .xls, .xlsx, .ppt, .pptx)
Internet Browsers- Google Chrome is highly recommended


Cookies MUST be enabled
Pop-ups MUST be allowed (Pop-up Blocker disabled)

The Kindle Reader App or VitalSource Bookshelf App are needed for many of our courses (No special equipment needed. This can be downloaded for FREE onto your computer.)
PowerPoint Viewer (if you do not have PowerPoint)
Adobe PDF Reader
Apple QuickTime Media Player