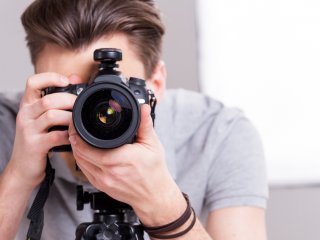 Course Type:
Instructor Led - 4 Weeks Long
Description
Objectives
Outline
Materials
System Requirements
Our "Unforgettable Digital Photography" course does not focus on the technical aspects of becoming a better photographer but instead teaches the student how to see life creatively and to document their daily experiences through beautiful images. For this photography course there is no fancy equipment required, and we will explore the six essential principles of "seeing like a photographer" as outlined the course textbook: 1) Shoot the Moment, Not the Subject, 2) Keep It Real, 3) Embrace Intimacy, 4) Move Your Eye, 5) See The Light and 6) Feel the Rhythm. You will complete this course with an understanding of what it means to be a visual storyteller and have four series of photographs that will illustrate the beauty in your daily life and inspire you to continue taking meaningful and stunning photographs.
* You have 4 weeks to complete this course from date of your enrollment.
** Course Subject to Change.
After completing this course, you should be able to:
Define basic compositional techniques for photography
Recall how to see like a photographer and how to tell stories through photos
Recognize the technical aspects of photography
Identify how to look beyond your subject by using props and backdrops
Discover Digital Photography Module 1
Getting in Close
Module 1 of our course begins by covering basic compositional techniques that will assist students with taking better images. We will then discussing the importance of "shooting in the moment" and what kinds of moments are best to capture. Next we will learn how to be photographic storytellers and how our images share the stories of our lives. Lastly we will learn to capture closeness and human intimacy in our photographs.
Principles of Composition

Shooting in the Moment
Different Kinds of Photographic Moments
Keeping Your Photos Real
Telling Stories Through Your Photos
Discover Digital Photography Module 2
Learning to See
In Module 2 students will learn to see like photographers by moving their eye and seeing the typical in a new way. We will also discuss how camera angle and lighting can influence the mood or feeling of an image and how to manipulate both to achieve a desired result. Lastly we will discuss what the author of the textbook describes as the "natural rhythm" of everyday life and how to capture this rhythm in our images.
Move Your Eye

Learning to See Things Differently
Finding a New Angle
Seeing the Light
Finding the Natural Rhythm
Discover Digital Photography Module 3
Technical & People Skills
Module 3 will focus on some of the technical aspects of photography that can be manipulated in and out of your camera to achieve a more creative image and the "people skills" needed to be a successful photographer. Technical aspects discussed include panning, blur and shutter speeds, lighting techniques and focus. Our discussion of people skills will include best practices for working with adults as well as with babies and children.
Panning, Blur and Shutter Speeds

More Lighting Techniques
Changing the Focus to Create Interest
Working with People
Playing with Babies and Children
Discover Digital Photography Module 4
Beyond the Subject
The last module of the course will discuss the space beyond your subject and includes discussions of props, backdrops, and studios. We will begin by learning how to use ordinary props in extraordinary and unconventional ways to create artistic and fun images. Next we will discuss how to use both typical and unique options for backdrops for your subjects and photo shoots. We will briefly touch on street photography and how to use the "street as your studio". Lastly, to conclude the course, we will be reminded of ways to keep photography fun and engaging for both ourselves and our subjects.
Props in Your Photos
Using Normal Props in Extraordinary Ways
Backdrop Options
Using the Street as Your Studio
Having Fun While You Shoot
Ed4Career is committed to being both environmentally conscious and making it easier for you to study! We're making your education mobile! All of our textbooks are now provided as eTextbooks. You can access them on your laptop, tablet, or mobile device and can study anytime, anywhere.
The move away from physical books to eTextbooks means you get the latest, most up-to-date version available. This also makes your training more accessible, so you can study anywhere you have your phone or tablet. The best part is that all materials are included in your training cost so there are NO extra fees for books!
Internet Connection
Broadband or High-Speed - DSL, Cable, and Wireless Connections
*Dial-Up internet connections will result in a diminished online experience. Classroom pages may load slowly and viewing large audio and video files may not be possible.
Hardware Requirements
Processor - 2GHz Processor or Higher
Memory - 1 GB RAM Minimum Recommended
PC Software Requirements
Operating Systems - Windows 7 or higher
Microsoft Office 2013 or higher. Also, you could use a general Word Processing application to save and open Microsoft Office formats (.doc, .docx, .xls, .xlsx, .ppt, .pptx)
Internet Browsers - Google Chrome is highly recommended


Cookies MUST be enabled
Pop-ups MUST be allowed (Pop-up Blocker disabled)

The Kindle Reader App or VitalSource Bookshelf App are needed for many of our courses (No special equipment needed. This can be downloaded for FREE onto your computer.)
PowerPoint Viewer (if you do not have PowerPoint)
QuickTime, Windows Media Player &/or Real Player
MAC Software Requirements
Operating Systems - Mac OS x 10 or higher with Windows
Mac office programs or a Word Processing application to save and open Microsoft Office formats (.doc, .docx, .xls, .xlsx, .ppt, .pptx)
Internet Browsers- Google Chrome is highly recommended


Cookies MUST be enabled
Pop-ups MUST be allowed (Pop-up Blocker disabled)

The Kindle Reader App or VitalSource Bookshelf App are needed for many of our courses (No special equipment needed. This can be downloaded for FREE onto your computer.)
PowerPoint Viewer (if you do not have PowerPoint)
Adobe PDF Reader
Apple QuickTime Media Player