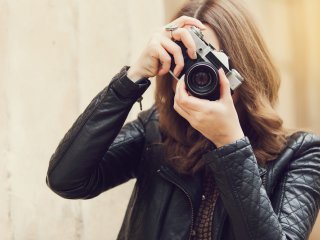 Course Type:
Instructor Led - 4 Weeks Long
Description
Objectives
Outline
Materials
System Requirements
Do you love taking photos? Or do you carry your camera everywhere? Our course will help you realize your dream of working from your home at something you enjoy, a home-based photography business. Our students will receive information on every aspect of setting up and running a thriving home-based photography business. You will learn how to estimate your start-up costs, outfit your home studio, market yourself and stay profitable once you are in business. Whether you want to earn your living as a portrait photographer, photojournalist, or product photographer our course will give you the tools you need to prepare for an exciting new career.
After completing this course, you should be able to:
Recall the steps need to get established as a home-based photographer
Recognize the financial and legal aspects of owning your own photography business
Identify a business plan and how to track expenses
List how to manage and market a photography business
Start Your Own Photography Business Module 1
Getting Started as Home-Based Photographer
In Module 1 of our photography business course will discuss the basics of getting started a home-based photographer. We will learn to make basic business decisions regarding amateur vs. professional status, part-time vs. full-time hours and what skills are necessary to begin your career. There are different branches of home-based photography and we will cover each of them before discussing working out of your home and the challenges of separating your business life from your personal life.
Amateur vs. Professional

Part-time vs. Full-time Photography
Acquiring the Knowledge & Skills of Photography
Branches of Home-Based Photography
Separating Business Life from Personal Life
Start Your Own Photography Business Module 2
Finances & Legal
Module 2 focuses on the financial and legal aspects of owning your own photography business. Financial lessons covered include financial planning, costs, accounts and reports as well as pricing for profit (which can be the most difficult and confusing part of starting your own business!). Legal aspects of owning your own business include sole proprietorships vs. partnerships, LLCs, corporations, and zoning ordinances. Lastly, we will discuss the naming and licensing of your new business, how to hire an attorney and how to purchase insurance.
Financial Planning

Costs, Accounts & Reports
Pricing for Profit
Sole Proprietorship & Partnership
Limited Liability Corporations (LLCs) & Corporations
Start Your Own Photography Business Module 3
Business Plans, Taxes & Record Keeping
In Module 3 you will be learning about business plans, taxes and record keeping. We begin by discussing how to write a business plan and then move on to the rules of using your home, vehicle and computer in your business. Next we will discuss tracking business expenses and other types of recording keeping. Lastly we will cover taxes and their implications for your business. Computers can be invaluable tools for many aspects of your business and we will explore what type of computer would best suit your specific type of business.
How & Why to Write a Business Plan

Using Your Home, Vehicle & Computer in Your Business
Business Expenses
Record Keeping
Estimating Taxes & Sales Tax
Start Your Own Photography Business Module 4
Managing & Marketing Your Business
Module 4 aims to teach students about both the managing and marketing of their budding photography business. We will discuss setting business goals and managing productivity to achieve those goals. Storage, filing and retrieval systems are important for accurate record keeping so we will learn about the best way to manage your paper trial or digital records. Another important aspect of your business is PR (public relations) and we will learn about how your website, publicity, promotion and advertising all reflect your image as a business. Growth as a business and planning for the future is also very important in prolonging your career as a photographer so we will conclude the course by discussing the development of new products and services.
Setting Goals

Storage, Filing and Retrieval Systems
Productivity
Reputation & Public Relations
Website, Publicity & Promotion
Ed4Career is committed to being both environmentally conscious and making it easier for you to study! We're making your education mobile! All of our textbooks are now provided as eTextbooks. You can access them on your laptop, tablet, or mobile device and can study anytime, anywhere.
The move away from physical books to eTextbooks means you get the latest, most up-to-date version available. This also makes your training more accessible, so you can study anywhere you have your phone or tablet. The best part is that all materials are included in your training cost so there are NO extra fees for books!
Internet Connection
Broadband or High-Speed - DSL, Cable, and Wireless Connections
*Dial-Up internet connections will result in a diminished online experience. Classroom pages may load slowly and viewing large audio and video files may not be possible.
Hardware Requirements
Processor - 2GHz Processor or Higher
Memory - 1 GB RAM Minimum Recommended
PC Software Requirements
Operating Systems - Windows 7 or higher
Microsoft Office 2013 or higher. Also, you could use a general Word Processing application to save and open Microsoft Office formats (.doc, .docx, .xls, .xlsx, .ppt, .pptx)
Internet Browsers - Google Chrome is highly recommended


Cookies MUST be enabled
Pop-ups MUST be allowed (Pop-up Blocker disabled)

The Kindle Reader App or VitalSource Bookshelf App are needed for many of our courses (No special equipment needed. This can be downloaded for FREE onto your computer.)
PowerPoint Viewer (if you do not have PowerPoint)
QuickTime, Windows Media Player &/or Real Player
MAC Software Requirements
Operating Systems - Mac OS x 10 or higher with Windows
Mac office programs or a Word Processing application to save and open Microsoft Office formats (.doc, .docx, .xls, .xlsx, .ppt, .pptx)
Internet Browsers- Google Chrome is highly recommended


Cookies MUST be enabled
Pop-ups MUST be allowed (Pop-up Blocker disabled)

The Kindle Reader App or VitalSource Bookshelf App are needed for many of our courses (No special equipment needed. This can be downloaded for FREE onto your computer.)
PowerPoint Viewer (if you do not have PowerPoint)
Adobe PDF Reader
Apple QuickTime Media Player