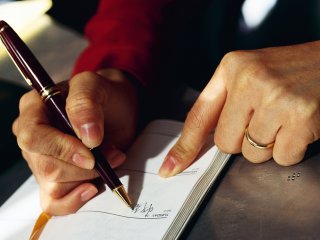 Course Type:
Instructor Led - 4 Weeks Long
Description
Objectives
Outline
Materials
System Requirements
Grant Writing is at the heart of the nonprofit world, and Grant Writers remain in high demand. Philanthropy has remained strong in the United States. From large funders such as Bill and Melinda Gates to small funders, Grant Writers seek to secure funds for individuals. The Grant Writer provides a crucial connection between the person seeking grants and funders. Our course will allow students to gain a full understanding of grant writing from identifying potential grant seekers needing someone to write their grants to finding funders and building your own grant writing business. Basic grant writing is a critical skill for anyone seeking a position in a nonprofit organization or as a freelance grant writer. This course will provide our students with skills they can put to use immediately in their current grant writing position or to build a new career.
* You have 4 weeks to complete this course from date of your enrollment.
** Course Subject to Change.
After completing this course, you should be able to:
Identify traits of a granter writer and grant writing as a career path

Recall the stages of a successful grant proposal and effective writing techniques

List ways to build a grant writing business

Recognize the diverse nature of grant writing, current trends, and tips for success
Grant Writing 101 Module 1
Grant Funding
Grants are used by a variety of organizations and individuals, with funding ranging from small amounts to hundreds of thousands of dollars. Finding funders and the grants available are both important parts of understanding grant funding. This module will address grant writing as a career path and include an in-depth look at who uses grants as well as potential funders.
The Traits of a Grant Writer
Characteristics of a Career in Grant Writing
The Difference Between Grant Writing and Fundraising
Differentiating Between Types of Funders
Finding a Grant
Grant Writing 101 Module 2
The Grant Proposal
One of the key skills for any grant writer lies in understanding the guidelines of the funder and in crafting the grant proposal. Writing a grant proposal is a craft that includes stages and steps to both identifying the guidelines and writing the initial proposal for the funder. This is a crucial step for any successful grant writer and will be the focus of this module.
General Guidelines for Writing Grants
Stages for Writing a Grant Proposal
How to be Persuasive in Your Grant Writing
The Elements to Support Your Grant Proposal
How to Submit Your Grant
Grant Writing 101 Module 3
Building a Grant Writing Business
Knowing how to approach others to seek out grants and funding is an important skill for anyone considering a career in grant writing. Not only is general writing skills a necessity, there are also particular techniques important to the grant writing industry. This module will help you build effective grant writing techniques, manage a grant and funds, and turn your grant writing skills into a profitable business.
Building a New Business
How to Write Effectively for Grants
Using Grant Funds Ethically
How to Effectively Manage Your Grant
How to Build a Grant Writing Business Start Up
Grant Writing 101 Module 4
Working as a Grant Writer
There are many diverse career opportunities in grant writing. The grant writing industry often changes to meet the needs and availability of funders. Understanding and working with the changing trends in grant writing is vital to your success in this profession. This module will discuss the diverse nature of grant writing careers, current trends in grant writing, and tips for success.
Career Opportunities in Grant Writing
Taking Your Grant Writing Career to the Next Step
Selecting Topics and Focusing Your Idea
Six Grant Writing Myths
Technical Tips for Grant Writers
Ed4Career is committed to being both environmentally conscious and making it easier for you to study! We're making your education mobile! All of our textbooks are now provided as eTextbooks. You can access them on your laptop, tablet, or mobile device and can study anytime, anywhere.
The move away from physical books to eTextbooks means you get the latest, most up-to-date version available. This also makes your training more accessible, so you can study anywhere you have your phone or tablet. The best part is that all materials are included in your training cost so there are NO extra fees for books!
Internet Connection
Broadband or High-Speed - DSL, Cable, and Wireless Connections
*Dial-Up internet connections will result in a diminished online experience. Classroom pages may load slowly and viewing large audio and video files may not be possible.
Hardware Requirements
Processor - 2GHz Processor or Higher
Memory - 1 GB RAM Minimum Recommended
PC Software Requirements
Operating Systems - Windows 7 or higher
Microsoft Office 2013 or higher. Also, you could use a general Word Processing application to save and open Microsoft Office formats (.doc, .docx, .xls, .xlsx, .ppt, .pptx)
Internet Browsers - Google Chrome is highly recommended


Cookies MUST be enabled
Pop-ups MUST be allowed (Pop-up Blocker disabled)

The Kindle Reader App or VitalSource Bookshelf App are needed for many of our courses (No special equipment needed. This can be downloaded for FREE onto your computer.)
PowerPoint Viewer (if you do not have PowerPoint)
QuickTime, Windows Media Player &/or Real Player
MAC Software Requirements
Operating Systems - Mac OS x 10 or higher with Windows
Mac office programs or a Word Processing application to save and open Microsoft Office formats (.doc, .docx, .xls, .xlsx, .ppt, .pptx)
Internet Browsers- Google Chrome is highly recommended


Cookies MUST be enabled
Pop-ups MUST be allowed (Pop-up Blocker disabled)

The Kindle Reader App or VitalSource Bookshelf App are needed for many of our courses (No special equipment needed. This can be downloaded for FREE onto your computer.)
PowerPoint Viewer (if you do not have PowerPoint)
Adobe PDF Reader
Apple QuickTime Media Player