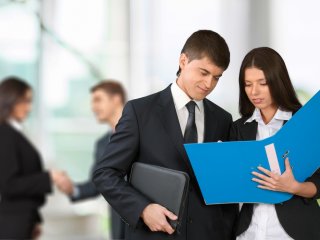 Course Type:
Instructor Led - 4 Weeks Long
Description
Objectives
Outline
Materials
System Requirements
Interpersonal Communication is a very important skill that is needed to develop and maintain personal and professional relationships. Just because you are talking does not mean you are communicating. This course will take you through the steps involved in understanding the importance of interpersonal communication and the effect on our daily interactions.
* You have 4 weeks to complete this course from date of your enrollment.
** Course Subject to Change.
After completion of this course you should be able to:
Recognize the basics and importance of verbal and nonverbal communication
Identify steps associated with the learning process and how to improve your listening skills
Recall types of personality styles and the perception process
List styles of conflict and what contributes to it
Better Interpersonal Communication Module 1
Introduction to Communication
Because it's such a commonplace activity, we usually don't think about how we communicate too much. However, the power of effective, persuasive communication should never be underestimated. Your success in any number of settings—in your relationships, in school, on the job, and as a member of society— hinges on your ability to master the full communication process. Our first module discusses the basics of verbal and nonverbal communication, as well as uses and misuses.
Why We Communicate
Verbal Communication
Nonverbal Communication
Uses and Misuses
Cultural Differences and Language
Better Interpersonal Communication Module 2
Listening, Self-Esteem, and Self-Disclosure
Listening is the learned process of hearing, attending, evaluating, retaining, and responding to verbal and nonverbal messages. In this module we will learn more about each stage of the listening process: review both the benefits to listening, as well as the challenges to effective listening; and explore the ways in which you can improve your listening skills. We'll also discuss the principles behind self-concepts and self-disclosure.
Listening Process
Benefits to Listening
Steps for Improving Your Listening Skills
Self-Concepts
Self-Disclosure
Better Interpersonal Communication Module 3
Personality Styles and Perception
Do you notice that you act in different ways around certain people? Perhaps you act inhibited around your supervisor, but you wish you could act confident like you do around your co-workers and other colleagues. In other situations, you act polite and deferential around acquaintances, but may wish you could act more sociable like you do around your friends. In this module, we'll discuss how personality styles effect communication as well as the perception process. Finally, we'll explore the basics behind defense mechanisms.
How Does Personality Style Effect Communication?
Physiological and Psychological Factors of Perception
Challenges to the Perception Process
What is Defensiveness?
Defense Mechanisms
Better Interpersonal Communication Module 4  
Conflict and Electronic Communication
Interpersonal conflict occurs in interactions where there are real or perceived incompatible goals, scarce resources, or opposing viewpoints. We'll discuss types of conflict and conflict styles in our final module, as well as characteristics of electronic communication.
What is Conflict and What Contributes to It?
Types of Conflict
Conflict Styles
What is Electronic Communication?
Characteristics and Misuses of Electronic Communication
Ed4Career is committed to being both environmentally conscious and making it easier for you to study! We're making your education mobile! All of our textbooks are now provided as eTextbooks. You can access them on your laptop, tablet, or mobile device and can study anytime, anywhere.
The move away from physical books to eTextbooks means you get the latest, most up-to-date version available. This also makes your training more accessible, so you can study anywhere you have your phone or tablet. The best part is that all materials are included in your training cost so there are NO extra fees for books!
Internet Connection
Broadband or High-Speed - DSL, Cable, and Wireless Connections
*Dial-Up internet connections will result in a diminished online experience. Classroom pages may load slowly and viewing large audio and video files may not be possible.
Hardware Requirements
Processor - 2GHz Processor or Higher
Memory - 1 GB RAM Minimum Recommended
PC Software Requirements
Operating Systems - Windows 7 or higher
Microsoft Office 2013 or higher. Also, you could use a general Word Processing application to save and open Microsoft Office formats (.doc, .docx, .xls, .xlsx, .ppt, .pptx)
Internet Browsers - Google Chrome is highly recommended


Cookies MUST be enabled
Pop-ups MUST be allowed (Pop-up Blocker disabled)

The Kindle Reader App or VitalSource Bookshelf App are needed for many of our courses (No special equipment needed. This can be downloaded for FREE onto your computer.)
PowerPoint Viewer (if you do not have PowerPoint)
QuickTime, Windows Media Player &/or Real Player
MAC Software Requirements
Operating Systems - Mac OS x 10 or higher with Windows
Mac office programs or a Word Processing application to save and open Microsoft Office formats (.doc, .docx, .xls, .xlsx, .ppt, .pptx)
Internet Browsers- Google Chrome is highly recommended


Cookies MUST be enabled
Pop-ups MUST be allowed (Pop-up Blocker disabled)

The Kindle Reader App or VitalSource Bookshelf App are needed for many of our courses (No special equipment needed. This can be downloaded for FREE onto your computer.)
PowerPoint Viewer (if you do not have PowerPoint)
Adobe PDF Reader
Apple QuickTime Media Player