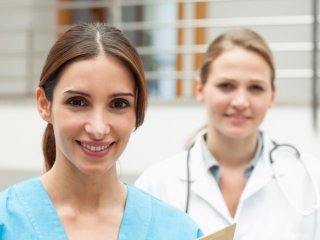 Description
Objectives
Outline
Materials
Certification
System Requirements
Watch a Demo
If you've ever thought about becoming a nursing assistant, this in-depth curriculum could help you learn important fundamental, practical skills involved in a career as a nursing assistant. Nursing assistants, also known as nurse's aides, orderlies or patient care technicians work under the supervision of a nurse to provide assistance to patients with daily living tasks. Working closely with patients, nursing assistants are responsible for basic care services such as bathing, grooming and feeding patients, assisting nurses with medical equipment, and checking patient's vital signs. Nursing assistants give patients important social and emotional support and also provide vital information on patient conditions to nurses.
Prerequisite(s): None
After completing this course, you should be able to:
Identify the core elements of the nursing profession
Define the systems of the body and their major diseases
List strategies for communicating with and understanding patients
Recall the steps to prevent infections and assist patients with hygiene and basic needs
Recognize the basics of taking vitals, providing patient care, and maintaining safe environments
Nursing Assistant Module 1
The Nursing Assistant
Health Care Agencies
The Nursing Team
Nursing Care Patterns
Paying for Healthcare
Patient Rights
Resident Rights
Role of the Nursing Assistant
Federal and State Laws
Delegation Process
Nursing Assistant Module 2
Ethics and Communication
Ethical and Legal Aspects
Reporting Abuse
Wills
Student and Work Ethics
Communicating with the Person
Reporting and Recording
Computer and Phone Communications
Assisting with the Nursing Process
Nursing Assistant Module 3
Body Structure and Development
Medical Terminology
Body Functions
Cells, Tissues and Organs
Body Systems
Growth and Development through the Ages
Care of the Older Person
Psychological, Physical, and Social Changes
Nursing Assistant Module 4
Ensuring Safety and Preventing Infection
Accident Risk Factors
Preventing Burns, Poisoning and Suffocation
Hazardous Chemicals
Fall Prevention
Transfer/Gait Belts
Restraint Alternatives
Safe Restraint Use
Preventing Infection
Hand-Washing
Personal Protective Equipment
Nursing Assistant Module 5
Body Mechanics, Moving, and Transferring
Isolation Precautions
Work-Related Injuries
Positioning the Person
Safely Moving the Person
Moving Persons in Bed
Safely Transferring the Person
Wheelchair and Stretcher Safety
Lateral Transfers
Mechanical Lifts
Nursing Assistant Module 6
Personal Hygiene
Room Furniture
Bedmaking
Daily Care and Hygiene
Oral Hygiene
Daily Hygiene
Bathing
Perineal Care
Nursing Assistant Module 7
Grooming and Urinary Needs
Hair and Nail Care
Dressing and Undressing
Urinary Catheters
Condom Catheters
Urine Drainage Systems
Normal Urination
Urinary Incontinence  
Bladder Training
Nursing Assistant Module 8
Bowel Needs and Nutritional Support
Normal Bowel Movements
Bowel Training
Suppositories
Enemas
Factors Affecting Eating and Nutrition
Special Diets
Foodborne Illness
Fluid Needs
Nutritional Support and IV Therapy
Nursing Assistant Module 9
Vital Signs, Exercise, and Discharges 
Measuring and Reporting Vital Signs
Body Temperature
Pulse Oximetry
Exercise and Activity
Bed Rest
Comfort, Rest, and Sleep
Admissions, Transfers, and Discharges
Nursing Assistant Module 10
Physical Examinations, Surgery, and Wound Care  
Preparing the Person for a Physical Examination
Collecting and Testing Specimens
Psychological Care
Pre-Operative Care
Sedation and Anesthesia
Skin Tears
Dressings
Binders and Compression Garments
Heat and Cold Applications
Nursing Assistant Module 11
Pressure Injuries, Oxygen Needs, and Respiratory Support
Persons at Risk
Pressure Injury Stages
Pressure Complications
Heat and Cold Applications
Factors Affecting Oxygen Needs
Respiratory Support and Therapies
Suctioning
Mechanical Ventilation
Chest Tubes
Nursing Assistant Module 12
Body System Disorders  
Rehabilitation Needs
Rehabilitation Programs
Hearing, Speech, and Vision Problems
Cancer, Immune System, and Skin Disorders
Nervous System and Musculo-Skeletal Disorders
Nursing Assistant Module 13
Body System Disorders Part 2
Cardiovascular Disorders
Respiratory Disorders
Lymphatic Disorders
Digestive and Endocrine Disorders
Urinary and Reproductive Disorders
Mental Health Disorders
Nursing Assistant Module 14
Intellectual Disorders, Development Disabilities, Caring for Mothers and Babies
Dementia
Alzheimer's Disorder
Intellectual Disorders
Development Disabilities
Sexuality
Breast-Feeding
Bottle-Feeding
Nursing Assistant Module 15
Emergency and End-of-Life Care
Assisted Living
Transfer, Discharge, and Eviction
Emergency Care
End-of-Life Care
Terminal Illness
Comfort Needs
Signs of Death
Getting a Job
**Outlines are subject to change, as courses and materials are updated.**
Ed4Career is committed to being both environmentally conscious and making it easier for you to study! We're making your education mobile! All of our textbooks are now provided as eTextbooks. You can access them on your laptop, tablet, or mobile device and can study anytime, anywhere.
The move away from physical books to eTextbooks means you get the latest, most up-to-date version available. This also makes your training more accessible, so you can study anywhere you have your phone or tablet. The best part is that all materials are included in your training cost so there are NO extra fees for books!
Upon successful completion of our Nursing Assistant course, students may be prepared to sit for state certification. Each state has its own regulations. Visit http://www.cna-network.org &/or https://www.ncsbn.org/contact-bon.htm to view a state association list. Each state has specific requirements, we recommend you check with your state.
Internet Connection
Broadband or High-Speed - DSL, Cable, and Wireless Connections
*Dial-Up internet connections will result in a diminished online experience. Classroom pages may load slowly and viewing large audio and video files may not be possible.
Hardware Requirements
Processor - 2GHz Processor or Higher
Memory - 1 GB RAM Minimum Recommended
PC Software Requirements
Operating Systems - Windows 7 or higher
Microsoft Office 2013 or higher. Also, you could use a general Word Processing application to save and open Microsoft Office formats (.doc, .docx, .xls, .xlsx, .ppt, .pptx)
Internet Browsers - Google Chrome is highly recommended


Cookies MUST be enabled
Pop-ups MUST be allowed (Pop-up Blocker disabled)

The Kindle Reader App or VitalSource Bookshelf App are needed for many of our courses (No special equipment needed. This can be downloaded for FREE onto your computer.)
PowerPoint Viewer (if you do not have PowerPoint)
QuickTime, Windows Media Player &/or Real Player
MAC Software Requirements
Operating Systems - Mac OS x 10 or higher with Windows
Mac office programs or a Word Processing application to save and open Microsoft Office formats (.doc, .docx, .xls, .xlsx, .ppt, .pptx)
Internet Browsers- Google Chrome is highly recommended


Cookies MUST be enabled
Pop-ups MUST be allowed (Pop-up Blocker disabled)

The Kindle Reader App or VitalSource Bookshelf App are needed for many of our courses (No special equipment needed. This can be downloaded for FREE onto your computer.)
PowerPoint Viewer (if you do not have PowerPoint)
Adobe PDF Reader
Apple QuickTime Media Player