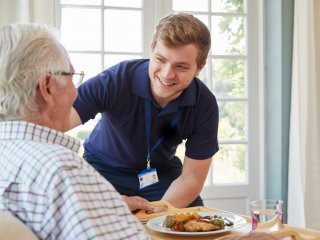 Description
Objectives
Outline
Materials
System Requirements
Watch a Demo
People with intellectual and developmental disabilities have existed in all cultures across history. However, it has only been since the mid-1800's that people began using terms to describe and classify these individuals. Direct Support Professionals provide care for people with intellectual and developmental disabilities in a variety of settings. Our course examines the many components of human development through the life span, etiologies, various conditions and aspects of support and intervention that a Direct Support Professional can provide. 
Prerequisite(s): None
After completing this course, you should be able to:
Identify components of intellectual and developmental disabilities

Recognize etiologies and conditions

Recall aspects of human development

Describe support and intervention techniques

List aspects of health, lifestyles, and advocacy 
Direct Support Professional Module 1    
Intellectual and Developmental Disabilities
Should Disability Terms Be Used?
Disability Terms in Today's Context
Historical Overview of Intellectual and Developmental Disabilities
Expansion of Disability as Difference
Changing Perspectives
Understanding Disabilities
Social Model of Disability
Trends and Issues
Direct Support Professional Module 2    
Advocacy 
International Human Rights and Intellectual Disabilities
Advocacy and Legal Considerations
Models of Action
Development of the Self-Advocacy Movement
Self-Advocacy as a Social Movement
Strategies to Promote Advocacy and Self-Advocacy
Making Services More Effective Through Research and Evaluation
Direct Support Professional Module 3   
Human Development
Introduction to Early Development
Stages of Development Before Birth
Important Processes in Prenatal Development
Complications
Development After Birth
Genetics, Genomics, Epigenetics
Nervous System
Brain Plasticity
Direct Support Professional Module 4
Etiology and Conditions
Factors Causing or Contributing to Intellectual and Development Disabilities
Biomedical Risk Factors
Down Syndrome
Fragile X Syndrome
Autism Spectrum Disorder
22q11.2 Deletion Syndrome 
Direct Support Professional Module 5    
Etiology and Conditions Part 2
Fetal Alcohol Spectrum Disorder Diagnosis
Fetal Alcohol Spectrum Disorder Challenges
Cerebral Palsy
Other Syndromes and Conditions
Epilepsy
Introduction to Behavior and Mental Health
Direct Support Professional Module 6    
Support and Intervention
Assessment, Diagnosis, Interventions, and Services
Intellectual and Developmental Disability Service Systems and Service Approaches
Roles, Skills, and Competencies of Direct Support Professionals
Responding to Cultural and Linguistic Differences
Defining Culture
Behavioral Intervention
Direct Support Professional Module 7   
Support and Intervention Part 2
Challenging Families
Challenging Service Systems
Psychopharmacology
History of Psychoactive Medication
Speech, Language, and Communication Assessments and Interventions
Augmentative and Alternative Communication
Direct Support Professional Module 8    
Disabilities Through the Life Span
Typical Milestones Achieved in the First 1,000 Days
Factors Important for Development
Early Intervention for Young Children
Inclusive Early Education
Maltreatment of Children with Developmental Disabilities
Education for Students
Transition from School to Adult Life
Work and Employment for People with Disabilities
Direct Support Professional Module 9    
Lifestyles and Support 
Lifestyles of Adults with Disabilities
Historical Evolution of Policies and Services
Providing Support that Enhances a Family's Quality of Life
Families as Dynamic Systems
Sexuality
Parenting by People with Disabilities
Gender Issues
Aging
Direct Support Professional Module 10
Health 
Ethics of Decision Making and Consent
Supporting Moral Agency
Physical Health
Mental Health Needs
Nutritional Considerations
Alzheimer's Disease and Dementia
Future Trends and Advances
**Outlines are subject to change, as courses and materials are updated.**
Ed4Career is committed to being both environmentally conscious and making it easier for you to study! We're making your education mobile! All of our textbooks are now provided as eTextbooks. You can access them on your laptop, tablet, or mobile device and can study anytime, anywhere.
The move away from physical books to eTextbooks means you get the latest, most up-to-date version available. This also makes your training more accessible, so you can study anywhere you have your phone or tablet. The best part is that all materials are included in your training cost so there are NO extra fees for books!
Internet Connection
Broadband or High-Speed - DSL, Cable, and Wireless Connections
*Dial-Up internet connections will result in a diminished online experience. Classroom pages may load slowly and viewing large audio and video files may not be possible.
Hardware Requirements
Processor - 2GHz Processor or Higher
Memory - 1 GB RAM Minimum Recommended
PC Software Requirements
Operating Systems - Windows 7 or higher
Microsoft Office 2013 or higher. Also, you could use a general Word Processing application to save and open Microsoft Office formats (.doc, .docx, .xls, .xlsx, .ppt, .pptx)
Internet Browsers - Google Chrome is highly recommended


Cookies MUST be enabled
Pop-ups MUST be allowed (Pop-up Blocker disabled)

The Kindle Reader App or VitalSource Bookshelf App are needed for many of our courses (No special equipment needed. This can be downloaded for FREE onto your computer.)
PowerPoint Viewer (if you do not have PowerPoint)
QuickTime, Windows Media Player &/or Real Player
MAC Software Requirements
Operating Systems - Mac OS x 10 or higher with Windows
Mac office programs or a Word Processing application to save and open Microsoft Office formats (.doc, .docx, .xls, .xlsx, .ppt, .pptx)
Internet Browsers- Google Chrome is highly recommended


Cookies MUST be enabled
Pop-ups MUST be allowed (Pop-up Blocker disabled)

The Kindle Reader App or VitalSource Bookshelf App are needed for many of our courses (No special equipment needed. This can be downloaded for FREE onto your computer.)
PowerPoint Viewer (if you do not have PowerPoint)
Adobe PDF Reader
Apple QuickTime Media Player