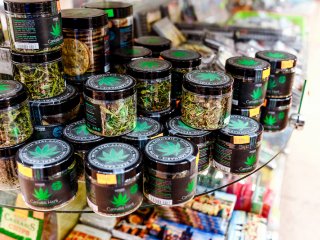 Course Type:
Instructor Led - 4 Weeks Long
Description
Objectives
Outline
Materials
System Requirements
The cannabis industry is currently one of the fastest growing markets in North America. Cannabis affects multiple parts of the economy such as manufacturing, tourism, farming, and retail. Since legalization is rapidly expanding and competition is growing fierce, many people are interested in learning how to start their own cannabis-related business. Our Start Your Own Cannabis Business course introduces you to the current landscape of legalization, medical marijuana, and the cannabis market. We'll then explore how to plan, fund, license, and start up your shop. 
* You have 4 weeks to complete this course.
After completing this course, you should be able to:
Recall aspects of cannabis legalization and the cannabis market
Recognize the basics of starting a business, such as creating a mission statement and business plan
Identify how to obtain your cannabis business license
Describe techniques for branding yourself and growing your cannabis business
Start Your Own Cannabis Business Module 1
The Marijuana Industry
Marijuana use can be traced back more than 4,5000 years. Only recently have laws begun to evolve and trend towards the legalization of marijuana. There are many documented benefits of how cannabis can be used for medical treatments and relief. Our first module discusses the history of cannabis and the current legal landscape. We also explore the first major decisions as a potential business owner, such as how to pick a subsector, how to develop realistic expectations, and how to conduct initial market research.
THC and CBD
The Current Legal Landscape
Medical Marijuana
Picking a Subsector
Competition and Market Research
Start Your Own Cannabis Business Module 2
Planning and Funding
The second module of our course discusses important aspects of a business in the initial planning phase. We explore how to create a realistic mission statement and business plan. We also describe financing issues that cannabis businesses tend to have with banks and how to find funding alternatives.
Mission Statement and Business Plan
Financing
Funding Alternatives
Investors and Crowdfunding
Attracting Capital
Start Your Own Cannabis Business Module 3
Licensing and Setting Up Shop
Module three explores a number of topics, including how to obtain a cannabis license, how to build your team of valuable employees, and how to brand yourself. Branding can include creating a strong name and establishing a strong identify, reaching clients via social media, and marketing techniques.
Cannabis License
Building Your Team
Branding Yourself
Marketing and Public Relations
Social Media
Start Your Own Cannabis Business Module 4
Growing Your Business
The final module of this course examines common post-startup issues, such as how to plan ahead for your business, paying taxes, and keeping your product and business compliant. Finally, we explore how to grow your business into a multilocation or multistate company.
Planning Ahead
Paying Taxes
Compliance
Becoming a Multilocation or Multistate Company
Raise More Money
Ed4Online is committed to being both environmentally conscious and making it easier for you to study! We're making your education mobile! All of our textbooks are now provided as eTextbooks. You can access them on your laptop, tablet, or mobile device and can study anytime, anywhere.
The move away from physical books to eTextbooks means you get the latest, most up-to-date version available. This also makes your training more accessible, so you can study anywhere you have your phone or tablet. The best part is that all materials are included in your training cost so there are NO extra fees for books!
Internet Connection
Broadband or High-Speed - DSL, Cable, and Wireless Connections
*Dial-Up internet connections will result in a diminished online experience. Classroom pages may load slowly and viewing large audio and video files may not be possible.
Hardware Requirements
Processor - 2GHz Processor or Higher
Memory - 1 GB RAM Minimum Recommended
PC Software Requirements
Operating Systems - Windows 7 or higher
Microsoft Office 2013 or higher. Also, you could use a general Word Processing application to save and open Microsoft Office formats (.doc, .docx, .xls, .xlsx, .ppt, .pptx)
Internet Browsers - Google Chrome is highly recommended


Cookies MUST be enabled
Pop-ups MUST be allowed (Pop-up Blocker disabled)

The Kindle Reader App or VitalSource Bookshelf App are needed for many of our courses (No special equipment needed. This can be downloaded for FREE onto your computer.)
PowerPoint Viewer (if you do not have PowerPoint)
QuickTime, Windows Media Player &/or Real Player
MAC Software Requirements
Operating Systems - Mac OS x 10 or higher with Windows
Mac office programs or a Word Processing application to save and open Microsoft Office formats (.doc, .docx, .xls, .xlsx, .ppt, .pptx)
Internet Browsers- Google Chrome is highly recommended


Cookies MUST be enabled
Pop-ups MUST be allowed (Pop-up Blocker disabled)

The Kindle Reader App or VitalSource Bookshelf App are needed for many of our courses (No special equipment needed. This can be downloaded for FREE onto your computer.)
PowerPoint Viewer (if you do not have PowerPoint)
Adobe PDF Reader
Apple QuickTime Media Player