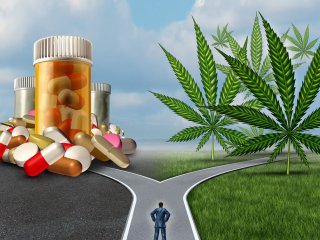 Course Type:
Instructor Led - 4 Weeks Long
Description
Objectives
Outline
Materials
System Requirements
People have cultivated and consumed cannabis since the beginning of recorded history. The stigma behind cannabis is continually being erased and states, politicians, and health professionals are seeing the benefits of medical consumption. Marijuana has been proven to ease symptoms of many common diseases and disorders, including general pain relief. Our Medical Marijuana course introduces you to the benefits of medical consumption, the different strains, and recipes for remedies and edibles. 
* You have 4 weeks to complete this course.
After completing this course, you should be able to:
Recall the basics of using marijuana for medicinal purposes
Recognize various delivery methods for marijuana consumption
Describe differences between marijuana strains
Identify how to make cannabis remedies and edibles
Medical Marijuana Module 1
Marijuana as Medicine
In our first module, we discuss the anatomy of the cannabis plant, the strains, and popular uses of cannabis for industrial, ceremonial, and spiritual purposes. We also describe the pros and cons of medical marijuana use. 
Cannabis Basics
Popular Uses of Cannabis
Naming of a Strain
Pros and Cons of Medical Marijuana Use
When Use Becomes Abuse
Medical Marijuana Module 2
Using Marijuana and Indica Strains
There are a number of different ways to consume marijuana. In this module, we discuss these methods, the type of marijuana required for them, and associated costs. We also describe various Indica strains, their history, aroma and taste, conditions treated, and unwanted effects.
Delivery Methods
Smoking, Vaping
Topicals, Edibles, Capsules
Tinctures, Dabbing, Transdermal
Indica Strains
Medical Marijuana Module 3
Sativa Strains
This module examines various sativa strains of marijuana. We explore elements such as the taste, aroma, potency effects, unwanted effects, and genetic history.
Acapulco Gold
Purple Haze
Strawberry Cough
Sour Diesel
Maui Waui, etc.
Medical Marijuana Module 4
Hybrid Strains, Cannabis Remedies, and Edibles
In our final module, we discuss types of hybrid marijuana strains, how to develop cannabis remedies, and recipes for sweet and savory edibles.
Hybrid Strains
Canna-Butter
Canna-Capsules
Savory Edibles
Sweet Edibles
Ed4Online is committed to being both environmentally conscious and making it easier for you to study! We're making your education mobile! All of our textbooks are now provided as eTextbooks. You can access them on your laptop, tablet, or mobile device and can study anytime, anywhere.
The move away from physical books to eTextbooks means you get the latest, most up-to-date version available. This also makes your training more accessible, so you can study anywhere you have your phone or tablet. The best part is that all materials are included in your training cost so there are NO extra fees for books!
Internet Connection
Broadband or High-Speed - DSL, Cable, and Wireless Connections
*Dial-Up internet connections will result in a diminished online experience. Classroom pages may load slowly and viewing large audio and video files may not be possible.
Hardware Requirements
Processor - 2GHz Processor or Higher
Memory - 1 GB RAM Minimum Recommended
PC Software Requirements
Operating Systems - Windows 7 or higher
Microsoft Office 2013 or higher. Also, you could use a general Word Processing application to save and open Microsoft Office formats (.doc, .docx, .xls, .xlsx, .ppt, .pptx)
Internet Browsers - Google Chrome is highly recommended


Cookies MUST be enabled
Pop-ups MUST be allowed (Pop-up Blocker disabled)

The Kindle Reader App or VitalSource Bookshelf App are needed for many of our courses (No special equipment needed. This can be downloaded for FREE onto your computer.)
PowerPoint Viewer (if you do not have PowerPoint)
QuickTime, Windows Media Player &/or Real Player
MAC Software Requirements
Operating Systems - Mac OS x 10 or higher with Windows
Mac office programs or a Word Processing application to save and open Microsoft Office formats (.doc, .docx, .xls, .xlsx, .ppt, .pptx)
Internet Browsers- Google Chrome is highly recommended


Cookies MUST be enabled
Pop-ups MUST be allowed (Pop-up Blocker disabled)

The Kindle Reader App or VitalSource Bookshelf App are needed for many of our courses (No special equipment needed. This can be downloaded for FREE onto your computer.)
PowerPoint Viewer (if you do not have PowerPoint)
Adobe PDF Reader
Apple QuickTime Media Player