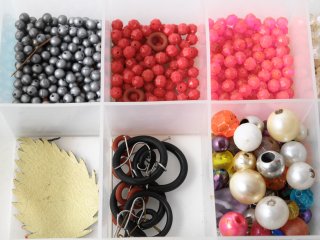 Course Type:
Instructor Led - 4 Weeks Long
Description
Objectives
Outline
Materials
System Requirements
Learning to make your own beautiful beaded necklaces, earrings, bracelets and rings is fun and easy with our Jewelry Making and Beading course. Jewelry making and beading is a great craft for anyone because it's an easy and inexpensive hobby to explore. All you need are a few basic tools, beading wire, and a handful of pretty beads to create your own handmade jewelry. Our course provides you with an overview of jewelry design concepts and techniques as well as how to properly use jewelry making tools. Who doesn't love a handcrafted piece of jewelry to wear or share?
* You have 4 weeks to complete this course from date of your enrollment.
** Course Subject to Change.
After completing this course, you should be able to:
Identify the essential tools, equipment, and supplies used in jewelry making and beading
Recognize common stringing and beading techniques
Recall the techniques of cutting, beading, and hammering to create jewelry
Identify various jewelry making techniques, different projects and their skill level 
Jewelry Making and Beading Module 1 Chapters 1, 2 & 9
Knotting and Beading
In module one you will be introduced to the essential tools, equipment, and supplies used in jewelry making and beading. The most important elements of design are covered, as well as how to apply them to the art of macramé jewelry. This module also describes how to set up your knotting board and create the most common knots and braids.
Jewelry Findings (tools)
Beads, Wire, and Braiding Supplies
Design Layout
Color Harmony
Knotting Board
Jewelry Making and Beading Module 2 Chapters 3, 4 & 5
Basic and Advanced Bead Stringing Techniques
Module two will provide you with common finishing techniques to perfect your look and design. You are introduced to the basics of how to lay out a design and string beads using the most popular bead-stringing materials. Knotting between beads and techniques for bead weaving are included. Once the foundation is established you will move on to more elaborate designs that you can create on your own.
Lay Out a Design
Stringing Material
String Multiple Strands
Knotting Between Beads
Bead Weaving
Jewelry Making and Beading Module 3 Chapters 6, 7 & 8
Wirework Technique and Wire Jigs
Module three covers how to make your own beaded links, hook clasps and chains by using the techniques of cutting, bending, and hammering metal wire. Some of the topics described involve making a wrapped briolette drop, constructing elaborate wire chains and forming ear wires. By the end of this module you will be able to make uniform connectors and ear wires using a wire jig.
Basic Wirework
Jump Rings and Eye Pins
Double Wire
Advanced Wirework Techniques
Wire Jig
Jewelry Making and Beading Module 4 Chapters 10, 11 & 12
Easy and Intermediate Projects
Module four focuses on easy and intermediate projects that you can create using all the different techniques and skills learned in the previous modules. Some easy projects include creating stretch bracelets as well as wire or crystal hearts rings. A beaded multi-knot hemp choker and a gothic bead lace collar necklace are some examples of more advanced projects. This module will also provide ideas and helpful hints for turning your hobby into a business.
Easy and Intermediate Projects
Patterns
Choosing a Specialized Path
Advanced Help and Training
Turn Your Hobby into a Business
Ed4Career is committed to being both environmentally conscious and making it easier for you to study! We're making your education mobile! All of our textbooks are now provided as eTextbooks. You can access them on your laptop, tablet, or mobile device and can study anytime, anywhere.
The move away from physical books to eTextbooks means you get the latest, most up-to-date version available. This also makes your training more accessible, so you can study anywhere you have your phone or tablet. The best part is that all materials are included in your training cost so there are NO extra fees for books!
Internet Connection
Broadband or High-Speed - DSL, Cable, and Wireless Connections
*Dial-Up internet connections will result in a diminished online experience. Classroom pages may load slowly and viewing large audio and video files may not be possible.
Hardware Requirements
Processor - 2GHz Processor or Higher
Memory - 1 GB RAM Minimum Recommended
PC Software Requirements
Operating Systems - Windows 7 or higher
Microsoft Office 2013 or higher. Also, you could use a general Word Processing application to save and open Microsoft Office formats (.doc, .docx, .xls, .xlsx, .ppt, .pptx)
Internet Browsers - Google Chrome is highly recommended


Cookies MUST be enabled
Pop-ups MUST be allowed (Pop-up Blocker disabled)

The Kindle Reader App or VitalSource Bookshelf App are needed for many of our courses (No special equipment needed. This can be downloaded for FREE onto your computer.)
PowerPoint Viewer (if you do not have PowerPoint)
QuickTime, Windows Media Player &/or Real Player
MAC Software Requirements
Operating Systems - Mac OS x 10 or higher with Windows
Mac office programs or a Word Processing application to save and open Microsoft Office formats (.doc, .docx, .xls, .xlsx, .ppt, .pptx)
Internet Browsers- Google Chrome is highly recommended


Cookies MUST be enabled
Pop-ups MUST be allowed (Pop-up Blocker disabled)

The Kindle Reader App or VitalSource Bookshelf App are needed for many of our courses (No special equipment needed. This can be downloaded for FREE onto your computer.)
PowerPoint Viewer (if you do not have PowerPoint)
Adobe PDF Reader
Apple QuickTime Media Player