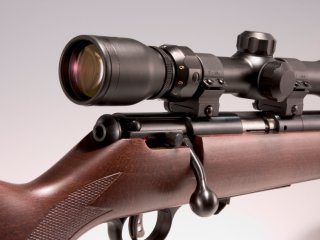 Course Type:
Instructor Led - 4 Weeks Long
Description
Objectives
Outline
Materials
System Requirements
Are you interested in firearms, but do not know where to start?  Our Guns 101: A Beginner's Guide to Buying and Owning Firearms course will explore the major types of firearms-how to handle them and their purposes.  Taking our course will provide enough information to enable students to make a decision on which type of firearm may be right for them.  Also included in our class is a guide to how to manage your firearm; from carrying and firing, to storing your firearm.  Our class will give students an introduction on where to shoot your gun and the types of competitions you may want to participate in.  Take our Guide 101: A Beginner's Guide to Buying and Owning Firearms to give you the best basic information of firearms prior to making your purchase!
After completing this course, you should be able to:
Identify the major types of firearms
List the different uses for guns
Recall the importance of gun etiquette
Recognize the responsibilities of owning a gun
Guns 101: A Beginner's Guide to Buying and Owning Firearms Module 1
Gun Basics
Before purchasing a firearm, you first need to decide what you will be using the gun for.  In module one, we will look at the uses of guns and the types of guns that would most best be used for specific situations.  Many people do not want guns in their homes.  Module one will look at the importance of both demystifying your firearm as well as securing your gun.  Module one culminates with a discussion on the modern cartridge and parts of a gun.
Guns are Like Golf Clubs
What Do You Need a Gun For?
My Significant Other Doesn't Want a Gun in the House
How Does a Gun Work
Parts of a Firearm
Guns 101: A Beginner's Guide to Buying and Owning Firearms Module 2
Types of Guns
Module two will explore the three main categories of firearms (handguns, rifles, and shotguns). We will look at the different guns in each of the categories, what they are used for, and the basics of how to use each.  Also included in module two is specialty guns and rifles and the basic occasions and/or reasons behind their purchase. 
Handguns
Revolvers
Pistols
Specialty/Novelty
Rifles
Guns 101: A Beginner's Guide to Buying and Owning Firearms Module 3
Choosing the Right Gun and Ammunition
Module three will help guide you through the process of selecting which gun you might like to purchase.  Also included is gun etiquette-the rules in a gun shop of how to appropriately handle a firearm.  A great way to view many guns in a short period of time is to visit a gun shop.  Module three will share some of the basic rules of gun shows.  Ammunition selection is sometimes a difficult part in learning about firearms.  Module three will go over different cartridges and bullet types, as well as the magnum gun and its use of cartridges and caliber suggestions.
Gun Etiquette
Gun Shows
The Magnum
Bullet Types
Dram Equivalent
Guns 101: A Beginner's Guide to Buying and Owning Firearms Module 4
So I've Got a Gun, What Do I Do with It?
Once you have purchased a firearm, you may be ready to begin target practice, but module four will go over the importance of reading the gun manual.   Module four will go over the basic care of your new firearm and the importance and responsibility you have to keep your firearms in a safe locations.  Also included in module four is how to store, clean and fix your firearm, as needed. 
Storing Guns in Cases or Holsters
Gun Safes
Cleaning Your Gun
Warranty Work
Gunsmiths
Ed4Career is committed to being both environmentally conscious and making it easier for you to study! We're making your education mobile! All of our textbooks are now provided as eTextbooks. You can access them on your laptop, tablet, or mobile device and can study anytime, anywhere.
The move away from physical books to eTextbooks means you get the latest, most up-to-date version available. This also makes your training more accessible, so you can study anywhere you have your phone or tablet. The best part is that all materials are included in your training cost so there are NO extra fees for books!
Internet Connection
Broadband or High-Speed - DSL, Cable, and Wireless Connections
*Dial-Up internet connections will result in a diminished online experience. Classroom pages may load slowly and viewing large audio and video files may not be possible.
Hardware Requirements
Processor - 2GHz Processor or Higher
Memory - 1 GB RAM Minimum Recommended
PC Software Requirements
Operating Systems - Windows 7 or higher
Microsoft Office 2013 or higher. Also, you could use a general Word Processing application to save and open Microsoft Office formats (.doc, .docx, .xls, .xlsx, .ppt, .pptx)
Internet Browsers - Google Chrome is highly recommended


Cookies MUST be enabled
Pop-ups MUST be allowed (Pop-up Blocker disabled)

The Kindle Reader App or VitalSource Bookshelf App are needed for many of our courses (No special equipment needed. This can be downloaded for FREE onto your computer.)
PowerPoint Viewer (if you do not have PowerPoint)
QuickTime, Windows Media Player &/or Real Player
MAC Software Requirements
Operating Systems - Mac OS x 10 or higher with Windows
Mac office programs or a Word Processing application to save and open Microsoft Office formats (.doc, .docx, .xls, .xlsx, .ppt, .pptx)
Internet Browsers- Google Chrome is highly recommended


Cookies MUST be enabled
Pop-ups MUST be allowed (Pop-up Blocker disabled)

The Kindle Reader App or VitalSource Bookshelf App are needed for many of our courses (No special equipment needed. This can be downloaded for FREE onto your computer.)
PowerPoint Viewer (if you do not have PowerPoint)
Adobe PDF Reader
Apple QuickTime Media Player