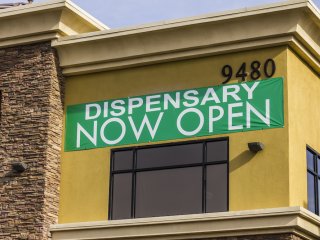 Course Type:
Instructor Led - 4 Weeks Long
Description
Objectives
Outline
Materials
System Requirements
A Budtender is the guru of knowledge in the dispensary and wears many hats. A Budtender must know the ins-and-outs of how cannabinoids work in the body in order to match a customer's pain level to the best strain for their symptoms. Our Dispensary Life course discusses what it takes to become a licensed and knowledgeable Budtender in this ever-evolving climate of cannabis legalization. This course discusses what it takes to become licensed to work, the basics of providing exceptional customer service, and the essentials of product knowledge. 
* You have 4 weeks to complete this course.
After completing this course, you should be able to:
Recall the steps for becoming a licensed budtender
Identify the basics of cannabis and how to consume it
Recognize the essentials of proper customer service, marketing, and product knowledge
Describe the foundations of legalizing cannabis 
Dispensary Life Module 1
Licensing, Applying, and Interviewing
Each state has its own process for applying for a cannabis license. In this module we discuss the application process for medical and recreational licenses in legalized states. We also identify steps for applying and interviewing for your new budtending job.
Becoming Licensed to Work
Legalized States
Skills That Set You Apart
The Interview
Learn Sativa
Dispensary Life Module 2
Understanding how Cannabinoids Work
This module discusses aspects of a typical dispensary environment, including the roles of the people involved. As a budtender, you must be very knowledgeable in strains, effects, and dosages. This module describes how cannabinoids work in the body.
The Customer
The Guts of the Dispensary
Crisis Management
What is Cannabis?
How to Consume
Dispensary Life Module 3
Product Knowledge and Customer Service
It is very important for a budtender to memorize all information in relation to the products they are selling so that customers can have in-depth knowledge of what to buy. This module discusses aspects of product knowledge and proper techniques for providing excellent customer service. 
Budtender Training
Customer Service is Key
Time Management
Managers in Training
Take Care of the Team
Dispensary Life Module 4
Marketing and Legalization
Our final module discusses the importance of marketing and how you bring it all together to get started in your cannabis career. Finally, we describe aspects of national legalization, who it's bad for, and who would benefit.
Classes and Groups
Getting Started in Your Cannabis Career
What Does Legalization Look Like?
Who is Legalization Bad For?
Who Would Legalization Benefit?
Ed4Online is committed to being both environmentally conscious and making it easier for you to study! We're making your education mobile! All of our textbooks are now provided as eTextbooks. You can access them on your laptop, tablet, or mobile device and can study anytime, anywhere.
The move away from physical books to eTextbooks means you get the latest, most up-to-date version available. This also makes your training more accessible, so you can study anywhere you have your phone or tablet. The best part is that all materials are included in your training cost so there are NO extra fees for books!
Internet Connection
Broadband or High-Speed - DSL, Cable, and Wireless Connections
*Dial-Up internet connections will result in a diminished online experience. Classroom pages may load slowly and viewing large audio and video files may not be possible.
Hardware Requirements
Processor - 2GHz Processor or Higher
Memory - 1 GB RAM Minimum Recommended
PC Software Requirements
Operating Systems - Windows 7 or higher
Microsoft Office 2013 or higher. Also, you could use a general Word Processing application to save and open Microsoft Office formats (.doc, .docx, .xls, .xlsx, .ppt, .pptx)
Internet Browsers - Google Chrome is highly recommended


Cookies MUST be enabled
Pop-ups MUST be allowed (Pop-up Blocker disabled)

The Kindle Reader App or VitalSource Bookshelf App are needed for many of our courses (No special equipment needed. This can be downloaded for FREE onto your computer.)
PowerPoint Viewer (if you do not have PowerPoint)
QuickTime, Windows Media Player &/or Real Player
MAC Software Requirements
Operating Systems - Mac OS x 10 or higher with Windows
Mac office programs or a Word Processing application to save and open Microsoft Office formats (.doc, .docx, .xls, .xlsx, .ppt, .pptx)
Internet Browsers- Google Chrome is highly recommended


Cookies MUST be enabled
Pop-ups MUST be allowed (Pop-up Blocker disabled)

The Kindle Reader App or VitalSource Bookshelf App are needed for many of our courses (No special equipment needed. This can be downloaded for FREE onto your computer.)
PowerPoint Viewer (if you do not have PowerPoint)
Adobe PDF Reader
Apple QuickTime Media Player