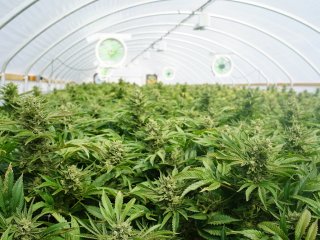 Course Type:
Instructor Led - 4 Weeks Long
Description
Objectives
Outline
Materials
System Requirements
Are you interested in growing commercial cannabis but intimidated by the growing process? If so, this course is for you. Our Cannabis Commercial Growing course introduces you to the step by step process of growing medical-grade cannabis without making it complicated. We explore how to create and structure a perfect growing environment and we cover elements related to ventilation, lighting, temperature, water, feeding, cloning, flowering, pests, diseases, and harvesting. By following the processes outlined in this course, you'll be able to produce a bountiful cannabis harvest.
* You have 4 weeks to complete this course.
After completing this course, you should be able to:
Recall basic methods and items needed for growing cannabis
Recognize proper techniques related to ventilation, temperature, and lighting
Identify elements related to water, feeding, and cloning
Describe aspects of flowering and harvesting and controlling pests and diseases
Cannabis Commercial Growing Module 1
Cannabis and System Basics
The needs of the cannabis plant are actually very basic! Our first module introduces you to the anatomy of the cannabis plant and how to identify the gender. Then we move into the symbiotic rotation process and items needed to start developing your growroom and/or greenhouse.
Cannabis Gender
Grow Security
The Symbiotic Rotation Process
Growroom Basics
Tips for Greenhouse Growing
Cannabis Commercial Growing Module 2
Ventilation, Temperature, Lighting, Germination
Our second module discusses growing mediums, ventilation, heat, CO2, and lighting. We also describe how to choose a cultivator, propagating clones, and germinating seeds intended for outdoor growth.
Growing Medium
Ventilation, Heat, and CO2
Lighting
Cultivator
Seed Germination
Cannabis Commercial Growing Module 3
Water, Feeding, Cloning
In our third module we explore how to prepare the plants for the flowering process. We discuss water quality, preparation, pH levels, soil, and fertilizers. We also describe what a clone is and various cloning tips. 
Vegetative Growth
Water Quality and Preparation
Composition
Liquid Concentrated Nutrient
Cloning
Cannabis Commercial Growing Module 4
Flowering, Harvest, Pests, and Diseases
We'll discuss the flowering state in our final module, how to harvest the plants properly, and steps for curing. We also explore typical problems that can develop with the plants, such as mold, pests, diseases, and nutrient deficiencies. Finally, we describe the basics of making hash.
The Flowering Stage
Harvesting
Curing
Mold, Pests
Diseases and Nutrient Deficiencies
Hash Making
 
Ed4Online is committed to being both environmentally conscious and making it easier for you to study! We're making your education mobile! All of our textbooks are now provided as eTextbooks. You can access them on your laptop, tablet, or mobile device and can study anytime, anywhere.
The move away from physical books to eTextbooks means you get the latest, most up-to-date version available. This also makes your training more accessible, so you can study anywhere you have your phone or tablet. The best part is that all materials are included in your training cost so there are NO extra fees for books!
Internet Connection
Broadband or High-Speed - DSL, Cable, and Wireless Connections
*Dial-Up internet connections will result in a diminished online experience. Classroom pages may load slowly and viewing large audio and video files may not be possible.
Hardware Requirements
Processor - 2GHz Processor or Higher
Memory - 1 GB RAM Minimum Recommended
PC Software Requirements
Operating Systems - Windows 7 or higher
Microsoft Office 2013 or higher. Also, you could use a general Word Processing application to save and open Microsoft Office formats (.doc, .docx, .xls, .xlsx, .ppt, .pptx)
Internet Browsers - Google Chrome is highly recommended


Cookies MUST be enabled
Pop-ups MUST be allowed (Pop-up Blocker disabled)

The Kindle Reader App or VitalSource Bookshelf App are needed for many of our courses (No special equipment needed. This can be downloaded for FREE onto your computer.)
PowerPoint Viewer (if you do not have PowerPoint)
QuickTime, Windows Media Player &/or Real Player
MAC Software Requirements
Operating Systems - Mac OS x 10 or higher with Windows
Mac office programs or a Word Processing application to save and open Microsoft Office formats (.doc, .docx, .xls, .xlsx, .ppt, .pptx)
Internet Browsers- Google Chrome is highly recommended


Cookies MUST be enabled
Pop-ups MUST be allowed (Pop-up Blocker disabled)

The Kindle Reader App or VitalSource Bookshelf App are needed for many of our courses (No special equipment needed. This can be downloaded for FREE onto your computer.)
PowerPoint Viewer (if you do not have PowerPoint)
Adobe PDF Reader
Apple QuickTime Media Player