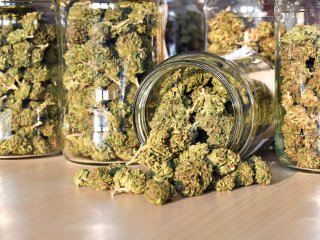 Course Type:
Instructor Led - 4 Weeks Long
Description
Objectives
Outline
Materials
System Requirements
There are so many ways to enjoy and benefit from cannabis, beyond just smoking it. Our Beyond Buds course explores various methods to get the most out of cannabis. We discuss easy and safe ways to make concentrates such as oils, waxes, and budders, as well as edibles and tinctures by exploring different preparation methods. We describe how to make bubble hash, examine how the CO2 extraction method works, discuss how vaporizers and dabbers work, and show you how to make edibles and topical cannabis remedies. 
* You have 4 weeks to complete this course.
After completing this course, you should be able to:
Recall aspects of marijuana processing and how to make water hash
Describe the elements of hashish, vaporizing, and dabbing
Identify the fundamentals of CO2 extraction and making tinctures
Recognize the basics behind making capsules, edibles, and topical remedies
Beyond Buds Module 1
Kief/Dry Sift and Water Hash
Our first module discusses how to select, collect, and process marijuana material. We start off the course by describing how kief screening and water hash creation works. We also examine proper storage for water hash.
Selecting and Collecting Material
Alchemy of Marijuana Processing
How Kief Screening Works
Water Hash – How It All Works
Pressing and Storage
Beyond Buds Module 2 
Advanced Hash, Vaporizers, and Dabbing
We dive into this module by discussing aspects of pressing and storing hashish. We explore how to prepare herbs for vaporizing and describe the gear needed for dabbing.
What is Hashish?
Pressing and Storing Hashish
Decarboxylation Explained
Preparing Herb for Vaporizing
Dabbing – The Gear
Beyond Buds Module 3
Butane Extracts, CO2 Extracts, and Tinctures
In this module we discuss Butane extracts, how blasting works, and how to make budder, shatter, and wax. We also discuss the CO2 extraction method for making concentrates and how to make tinctures.
How Blasting Works
CO2 Extraction Method
Choosing the Alcohol
Reducing Tinctures to Oil
Distilling
Beyond Buds Module 4
Capsules, Edibles, and Topical
In our final module, we describe how to make cannabis capsules and how to prepare edibles, including recipes and usages. Finally, we discuss various topical uses of marijuana.
How to Make Canna Caps
Using in Food
Juicing
Canna Oil, Butter, Milk, Tea, and Flour
Salves and Oils
 
Ed4Online is committed to being both environmentally conscious and making it easier for you to study! We're making your education mobile! All of our textbooks are now provided as eTextbooks. You can access them on your laptop, tablet, or mobile device and can study anytime, anywhere.
The move away from physical books to eTextbooks means you get the latest, most up-to-date version available. This also makes your training more accessible, so you can study anywhere you have your phone or tablet. The best part is that all materials are included in your training cost so there are NO extra fees for books!
Internet Connection
Broadband or High-Speed - DSL, Cable, and Wireless Connections
*Dial-Up internet connections will result in a diminished online experience. Classroom pages may load slowly and viewing large audio and video files may not be possible.
Hardware Requirements
Processor - 2GHz Processor or Higher
Memory - 1 GB RAM Minimum Recommended
PC Software Requirements
Operating Systems - Windows 7 or higher
Microsoft Office 2013 or higher. Also, you could use a general Word Processing application to save and open Microsoft Office formats (.doc, .docx, .xls, .xlsx, .ppt, .pptx)
Internet Browsers - Google Chrome is highly recommended


Cookies MUST be enabled
Pop-ups MUST be allowed (Pop-up Blocker disabled)

The Kindle Reader App or VitalSource Bookshelf App are needed for many of our courses (No special equipment needed. This can be downloaded for FREE onto your computer.)
PowerPoint Viewer (if you do not have PowerPoint)
QuickTime, Windows Media Player &/or Real Player
MAC Software Requirements
Operating Systems - Mac OS x 10 or higher with Windows
Mac office programs or a Word Processing application to save and open Microsoft Office formats (.doc, .docx, .xls, .xlsx, .ppt, .pptx)
Internet Browsers- Google Chrome is highly recommended


Cookies MUST be enabled
Pop-ups MUST be allowed (Pop-up Blocker disabled)

The Kindle Reader App or VitalSource Bookshelf App are needed for many of our courses (No special equipment needed. This can be downloaded for FREE onto your computer.)
PowerPoint Viewer (if you do not have PowerPoint)
Adobe PDF Reader
Apple QuickTime Media Player