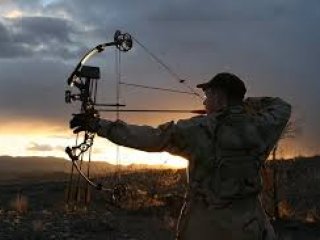 Course Type:
Instructor Led - 4 Weeks Long
Description
Objectives
Outline
Materials
System Requirements
Today, bowhunting ranks higher in participation than almost any other form of hunting, after whitetail gun hunting!  Our course is compiled with the very best tips and strategies, that give insights on critical gear, shooting advice, bowhunting techniques, and tons of helpful hints for in-the-field archery success.  Our Better Bow Hunting course takes a straightforward approach and highlights everything you can do to get more out of your archery products.  We include real-life situations and also give tips as to what gear can help your archery experience.
After completing this course, you should be able to:
Identify the building blocks of accurate bow shooting
Recall the safety basics and design of bowhunting
List the accessories that suit your needs and style
Define the steps to better bowhunting 
Better Bow Hunting Module 1
Basics of Bowhunting to Broadheads
Module one will look practicing sight pins at 20 to 50 yards and the importance of learning how to shoot at long distances; even if you never actually have to shoot that far.  We will also look at the bowhunter's debate of taking shots and the many sets of problems that one must overcome when shooting the bow.  Additionally, module one will examine the top reasons archers miss a shot and tips on how to not repeat the same error twice.
Why You Need a 40-Yard Pin
Long Shots vs. Flyers
5 Reasons We Miss Slam-Dunks
Shoot a Heavy Arrow
Broadhead Targets
Better Bow Hunting Module 2
Safety Basics and Design
Moving in to module two, we will look at how to make repairs in the field; leading to a longer, better hunt!  We will also examine some of the safety basics of bowhunting and how to become a more confident shot. Module two concludes with the different broadhead designs, comparisons, and how to make the determination if yours is the right weight.
Field Repairs Can Save Your Hunt
Craft Shooting Lanes for Success
No Excuses-Wear a Harness!
Is Your Broadhead Too Light?
Short Broadheads: Pros and Cons
Better Bow Hunting Module 3
Choosing the Right Pieces
Module three will take a look at some accessories needed to become a more accurate shot.  We will look at rangefinders and how to choose the right one for you. Another item up this week is modifying your bow to suit your needs and style.  After looking at accessories, we will explore how to quickly check and repair your bow so that you can have silence with your archery experience.
Rangefinders: Beyond the Basics
Choosing a Release for String Loops
Examining Modern Split-Limb Bows
Shoot You Shoot a Shorter Vane?
Silence is Golden. . . and Cheap
Better Bow Hunting Module 4
Perfecting your Bow-and-Arrow Setup
In module four students will look at compound bow pins and functions of brace heights. Also included in module for is the pros and cons of peep sights and aperture sizes.  Peep placement can be crucial to accuracy, so it is important to learn the correct locations of its position.  Module four will also examine how to create a better bow and the small set of tools you should invest in.  Strings must transfer energy efficiently.  This week we will end with the tips you need to create excellent bowstrings which is a very important piece of your bow-and-arrow setup.
Set Your Sights on Simplicity
Why Brace Height Matters
The Practical Little Bow Peep
You Can Build a Better Arrow
It's All About the String
Ed4Career is committed to being both environmentally conscious and making it easier for you to study! We're making your education mobile! All of our textbooks are now provided as eTextbooks. You can access them on your laptop, tablet, or mobile device and can study anytime, anywhere.
The move away from physical books to eTextbooks means you get the latest, most up-to-date version available. This also makes your training more accessible, so you can study anywhere you have your phone or tablet. The best part is that all materials are included in your training cost so there are NO extra fees for books!
Internet Connection
Broadband or High-Speed - DSL, Cable, and Wireless Connections
*Dial-Up internet connections will result in a diminished online experience. Classroom pages may load slowly and viewing large audio and video files may not be possible.
Hardware Requirements
Processor - 2GHz Processor or Higher
Memory - 1 GB RAM Minimum Recommended
PC Software Requirements
Operating Systems - Windows 7 or higher
Microsoft Office 2013 or higher. Also, you could use a general Word Processing application to save and open Microsoft Office formats (.doc, .docx, .xls, .xlsx, .ppt, .pptx)
Internet Browsers - Google Chrome is highly recommended


Cookies MUST be enabled
Pop-ups MUST be allowed (Pop-up Blocker disabled)

The Kindle Reader App or VitalSource Bookshelf App are needed for many of our courses (No special equipment needed. This can be downloaded for FREE onto your computer.)
PowerPoint Viewer (if you do not have PowerPoint)
QuickTime, Windows Media Player &/or Real Player
MAC Software Requirements
Operating Systems - Mac OS x 10 or higher with Windows
Mac office programs or a Word Processing application to save and open Microsoft Office formats (.doc, .docx, .xls, .xlsx, .ppt, .pptx)
Internet Browsers- Google Chrome is highly recommended


Cookies MUST be enabled
Pop-ups MUST be allowed (Pop-up Blocker disabled)

The Kindle Reader App or VitalSource Bookshelf App are needed for many of our courses (No special equipment needed. This can be downloaded for FREE onto your computer.)
PowerPoint Viewer (if you do not have PowerPoint)
Adobe PDF Reader
Apple QuickTime Media Player