Description
Objectives
Outline
Materials
Certification
Approvals
System Requirements
Watch a Demo
Our comprehensive Professional Catering course will take you through all the steps involved in operating a successful catering business. From planning an event step-by-step, to developing a full menu, to managing your clients and employees, this course offers solutions and considerations for all types of related issues that may arise. Learn the skills and techniques you need to build and grow a successful catering business today!
Prerequisite(s): None
After completing this course, you should be able to:
Recall the different methods and styles of catering
Identify steps for building a client base and engaging customers
List strategies for planning and managing an event
Choose methods for controlling risk and guiding employee behavior
Recognize conflict resolution strategies and basic human resource management principles
Professional Catering Module 1   
Introduction to Catering
Types of Catering
Catering Management
Catering Segments
On/Off-Premise Catering
The Caterer and the Client
Taking an Event
Safeguards
Corporate Catering
Cost and Profit Relationship
The Catering Market
Mission Statement
Growing the Business
Professional Catering Module 2    
Getting Started
Choosing Your Client          
Creating a Customer Base
Needs, Wants, Demands
Prospecting Strategies
Social Media Marketing
Types of Social Media
Engaging Customers
Standard Catering Website
The Seven Functions of Catering
Planning
Operations
Implementing         
Professional Catering Module 3    
The Catering Operation
Planning
The Menu
Barriers to Planning
Successful Business Plan
Operational Tasks
Recipes
Convenience Foods
Branded Menu Items
Organizing the Event
Catering Management Tasks
Purchasing
Ordering and Receiving
Professional Catering Module 4     
Catering Equipment
Equipment and Design Considerations
Utilities
Workstations
Procuring Catering Equipment
Professional Equipment Supplier
Consultants and Architects
Rental Services
Implementing
Employee-Supportive Culture
Service Styles
Uniforms
Room Arrangement
Professional Catering Module 5   
Control & Legalities
Controlling
Standard Operating Procedures
Guiding Employee Behavior
Cash Flow
Risk Management
Insurance
Legal Issues
Safety Committees
Beverage Management
Forming the Beverage Plan
Site Inspection
Beverage Packages
Professional Catering Module 6     
Management
Conflict Resolution
Dimensions of Conflict
Principled Negotiation
People Skills
Sustainable Catering
Sustainable Business Practices
Sustainable Green Zones
Human Resources Management
Federal Employment Laws
Recruiting
Gathering Information and Interviewing
Collective Bargaining
**Outlines are subject to change, as courses and materials are updated.**
Ed4Career is committed to being both environmentally conscious and making it easier for you to study! We're making your education mobile! All of our textbooks are now provided as eTextbooks. You can access them on your laptop, tablet, or mobile device and can study anytime, anywhere.
The move away from physical books to eTextbooks means you get the latest, most up-to-date version available. This also makes your training more accessible, so you can study anywhere you have your phone or tablet. The best part is that all materials are included in your training cost so there are NO extra fees for books!
Upon successful completion of our Professional Catering course, students will be prepared for an entry-level position in the field and to sit for the NCCB national certification exam to become a Certified Catering Associate (CCA).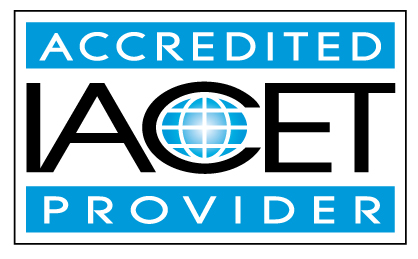 Ed4Career has been approved as an Accredited Provider by the International Association for Continuing Education and Training (IACET). In obtaining this accreditation, Ed4Career has demonstrated that it complies with the ANSI/IACET Standard which is recognized internationally as a standard of good practice. As a result of the Accredited Provider status, Ed4Career is authorized to offer IACET CEUs for courses and programs that qualify under the ANSI/IACET Standard.
The Continuing Education Unit (CEU) was created by IACET as a measurement of continuing education. One (1) IACET CEU is equal to ten (10) contact hours of participation in an organized continuing education experience under responsible sponsorship, capable direction, and qualified instruction. Under IACET's care, the IACET CEU has evolved from a quantitative measure to a hallmark of quality training and instruction. For more information on IACET, visit iacet.org.
Internet Connection
Broadband or High-Speed - DSL, Cable, and Wireless Connections
*Dial-Up internet connections will result in a diminished online experience. Classroom pages may load slowly and viewing large audio and video files may not be possible.
Hardware Requirements
Processor - 2GHz Processor or Higher
Memory - 1 GB RAM Minimum Recommended
PC Software Requirements
Operating Systems - Windows 7 or higher
Microsoft Office 2013 or higher. Also, you could use a general Word Processing application to save and open Microsoft Office formats (.doc, .docx, .xls, .xlsx, .ppt, .pptx)
Internet Browsers - Google Chrome is highly recommended


Cookies MUST be enabled
Pop-ups MUST be allowed (Pop-up Blocker disabled)

The Kindle Reader App or VitalSource Bookshelf App are needed for many of our courses (No special equipment needed. This can be downloaded for FREE onto your computer.)
PowerPoint Viewer (if you do not have PowerPoint)
QuickTime, Windows Media Player &/or Real Player
MAC Software Requirements
Operating Systems - Mac OS x 10 or higher with Windows
Mac office programs or a Word Processing application to save and open Microsoft Office formats (.doc, .docx, .xls, .xlsx, .ppt, .pptx)
Internet Browsers- Google Chrome is highly recommended


Cookies MUST be enabled
Pop-ups MUST be allowed (Pop-up Blocker disabled)

The Kindle Reader App or VitalSource Bookshelf App are needed for many of our courses (No special equipment needed. This can be downloaded for FREE onto your computer.)
PowerPoint Viewer (if you do not have PowerPoint)
Adobe PDF Reader
Apple QuickTime Media Player