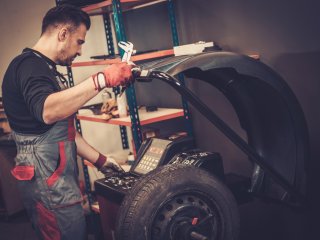 Description
Objectives
Outline
Materials
System Requirements
Watch a Demo
Our Medium/Heavy Diesel Automotive Technician three-part course series covers industry trends and current technology to provide an in-depth guide to highway diesel engines and their management. This series prepares entry-level and experienced technicians alike for a successful career as a Medium/Heavy Diesel Automotive Technician by outlining the role of the truck technician, industry tools and standards for safety, and steps for diagnosing and servicing a full range of diesel engines. Learn the necessary knowledge to gain employment in the automotive industry with up-to-date content including the principles and practices underlying current and proposed ASE and NATEF tasks and the most current diesel engine management electronics used in the industry. This series provides everything a student needs to know to diagnose, service, and maintain diesel engine systems. 
After completing this course, you should be able to:
Identify the role of the truck technician and guidelines for workplace safety
Recall the components of the engine and their function
Recognize the components of the engine powertrain, feedback assembly, and housing
List steps for servicing engine lubrication, breathing, and cooling systems
Identify the fundamentals for removing, cleaning, testing, and reassembling engines
Medium / Heavy Diesel Automotive Technician Level 1 Module 1     
Role of the Truck Technician, Tools, and Safety
Commercial Vehicle Powertrains
The Connected Truck
Qualifications, Training, and Employment
Customer Service and Professionalism
Hand and Shop Tools
Precision Tools
Fastener Grades and Classes
Units of Measurement
Metric System
Workplace Organization
Personal and Safety Awareness
Safety Equipment
Workplace Hazards and Safety Regulations
Medium / Heavy Diesel Automotive Technician Level 1 Module 2  
Overview of the Engine
Engine Basics
Key Engine Terms
Diesel Cycle
Two-Stroke Cycle Diesel Engine
Otto Cycle
Engine Systems and Circuits
History of the Motive Power Technology
Power
Definitions and Formulae
Engine Configuration
Engine Speed
Torsional Forces
Medium / Heavy Diesel Automotive Technician Level 1 Module 3
Engine Powertrain and Housing
Piston Assemblies
Piston Rings
Connecting Rods
Crankshaft and Bearings
Rod and Main Bearings
Engine Feedback Assembly
Timing Gears
Camshafts
Valve and Injector Trains
Engine Cylinder Block
Cylinder Heads
Intake and Exhaust Manifolds
Medium / Heavy Diesel Automotive Technician Level 1 Module 4
Engine Lubrication and Cooling Systems
Engine Lubricating Oil
Lubrication System Components
Interpreting Oil Analyses
Lubricating Circuit Problems
Engine Coolant
Cooling System Components
Filters
Cooling Monitoring Circuit
Thermostats
Cooling Fans
Cooling System Management
Coolant Heaters
Medium / Heavy Diesel Automotive Technician Level 1 Module 5
Engine Breathing, Retarders, and Maintenance
Breathing Components
Air Intake System Components
Turbochargers
Charge Air Heat Exchangers
Exhaust Gas Recirculation
Principles of Engine Retarder Operation
Exhaust Brakes
Internal Compression Brakes
Start-Up and Engine Break-Ins
Air Intake System Maintenance
Engine Lube Service
Diesel Particulate Filter Service
Medium / Heavy Diesel Automotive Technician Level 1 Module 6
Engine Removal and Performance Testing
Engine Disassembly
Cleaning Components
Component Inspection
Reassembly Guidelines
Service Literature
Removing an Engine
Diesel Engine Run-In
Rebuilt Engine Run-In Procedure
Chassis Dynamometer Testing
Engine Dynamometer Testing
Road Testing
**Outlines are subject to change, as courses and materials are updated.**
Ed4Career is committed to being both environmentally conscious and making it easier for you to study! We're making your education mobile! All of our textbooks are now provided as eTextbooks. You can access them on your laptop, tablet, or mobile device and can study anytime, anywhere.
The move away from physical books to eTextbooks means you get the latest, most up-to-date version available. This also makes your training more accessible, so you can study anywhere you have your phone or tablet. The best part is that all materials are included in your training cost so there are NO extra fees for books!
Internet Connection
Broadband or High-Speed - DSL, Cable, and Wireless Connections
*Dial-Up internet connections will result in a diminished online experience. Classroom pages may load slowly and viewing large audio and video files may not be possible.
Hardware Requirements
Processor - 2GHz Processor or Higher
Memory - 1 GB RAM Minimum Recommended
PC Software Requirements
Operating Systems - Windows 7 or higher
Microsoft Office 2013 or higher. Also, you could use a general Word Processing application to save and open Microsoft Office formats (.doc, .docx, .xls, .xlsx, .ppt, .pptx)
Internet Browsers - Google Chrome is highly recommended


Cookies MUST be enabled
Pop-ups MUST be allowed (Pop-up Blocker disabled)

The Kindle Reader App or VitalSource Bookshelf App are needed for many of our courses (No special equipment needed. This can be downloaded for FREE onto your computer.)
PowerPoint Viewer (if you do not have PowerPoint)
QuickTime, Windows Media Player &/or Real Player
MAC Software Requirements
Operating Systems - Mac OS x 10 or higher with Windows
Mac office programs or a Word Processing application to save and open Microsoft Office formats (.doc, .docx, .xls, .xlsx, .ppt, .pptx)
Internet Browsers- Google Chrome is highly recommended


Cookies MUST be enabled
Pop-ups MUST be allowed (Pop-up Blocker disabled)

The Kindle Reader App or VitalSource Bookshelf App are needed for many of our courses (No special equipment needed. This can be downloaded for FREE onto your computer.)
PowerPoint Viewer (if you do not have PowerPoint)
Adobe PDF Reader
Apple QuickTime Media Player