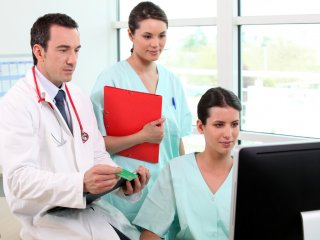 Description
Objectives
Outline
Materials
Certification
System Requirements
Watch a Demo
Would you like to know more about the role of medical assistants? Are you interested in what medical assistant duties involve? Also known as a medical administrative assistant or medical assistants, a medical office assistant performs a wide range of duties that are imperative to the smooth operation of a variety of medical offices. Medical office assistant duties can include updating patient files, filling out insurance forms, coordinating laboratory services, answering phones, ordering and maintaining medical supplies and equipment, and more. As the healthcare industry continues to expand, so does the need for medical office assistants. Many doctor's offices have come to rely on the work of a medical administrative assistant who performs a number of important medical office assistant duties.
Prerequisite(s): None
After completing this course, you should be able to:
Identify the role of medical office assistant professional
Recall the steps for managing patient records
Recognize the standards for professional oral and written communication
List the steps for managing various office financials
Define the requirements for basic office management
Medical Office Assistant Module 1
Professional and Career Responsibilities
Customer Service
Employment Opportunities
Job Responsibilities
Understanding Emotional Work-Related Problems
Professionalism
Licensure
Certification
Health Care Reform
History of Health Care
Changes in Health Care
Today's Health Care Delivery System
Medical Practice Setting
Physician Specialist
Medical Office Assistant Module 2
Ethics and Communications
Medical Ethics
Medical Etiquette
HIPAA 1996
Confidentiality
Medical Professional Liability
Criminal and Civil Law
Litigation Prevention
Essential Communication
Methods of Communication
Professional Communication 
Medical Office Assistant Module 3
Reception and Telephone Procedures
Office Receptionist
Opening the Medical Office
Processing Patients
Office Safety and Emergency Preparedness
Closing the Medical Office
Telephone Communication
Telephone Equipment & Services
Telephone Policies & Procedures
Telephone Reference Aids
Medical Office Assistant Module 4
Appointments and Filing Procedures
Scheduling Appointments
Scheduling Tips & Types of Appointments
Appointment Reminder Systems
Appointment Reference Sheet
Commercial Filing Systems
Electronic Filing Systems
Paper-Based Filing System
Filing Equipment, Supplies, & Their Uses
Charge-Out & Control Systems
Filing Documents in Patient Records
Record Retention & Storage
Destroying Documents
Medical Office Assistant Module 5
Medical, Drug, and Prescription Records
Patients' Medical Records
Medical Record Systems
Recordkeeping
Documentation Guidelines
Correcting a Medical Record
Audit of Medical Records
History of Drug Laws
Drug Names & References
Understanding Prescriptions
Control & Storage of Drugs
Medical Office Assistant Module 6
Written Communication
Letter Standards, Styles & Components
Composing Letters
Corrections in Business Correspondence
Envelope Enclosures
Medical Transcription
Processing Mail
Electronic Correspondence
Supplies & Equipment
Handling Incoming & Outgoing Mail
Managing Office Mail
Electronic Mail
Medical Office Assistant Module 7
Banking
Revenue Cycle
Fee Schedules
Patient Billing
Receiving Insurance Payment
History of Credit
Credit & Collection Laws
Checks & Bank Deposits
Checkbook Management
Bank Statements
Medical Office Assistant Module 8
Bookkeeping and Coding
Patient Accounts
Daysheet
Accounts Receivable Control
Cash Funds
Procedure Coding
Coding Terminology
Diagnostic Coding Using ICD-10-CM
ICD-10-CM Codebook
Chapter-Specific Coding Guidelines
Medical Office Assistant Module 9
Health Insurance Systems and Office Responsibilities
Third-Party Payers
Insurance Plans & Programs
Handling Insurance Claims
Claims Submission & Time Limits
Office Guidebooks
Employer Responsibilities
Facility Oversight
Office Supplies
Business Travel
Medical Office Assistant Module 10
Financial Management
Managing the Office
Medical Practices
Computerized Financial Management
Analyzing Practice Productivity
Accounts Payable
Payroll
Seeking a Position as an Administrative Medical Assistant
 
**Outlines are subject to change, as courses and materials are updated.**
Ed4Career is committed to being both environmentally conscious and making it easier for you to study! We're making your education mobile! All of our textbooks are now provided as eTextbooks. You can access them on your laptop, tablet, or mobile device and can study anytime, anywhere.
The move away from physical books to eTextbooks means you get the latest, most up-to-date version available. This also makes your training more accessible, so you can study anywhere you have your phone or tablet. The best part is that all materials are included in your training cost so there are NO extra fees for books!
Upon successful completion of our Medical Office Assistant course, students will be prepared for an entry-level position in a medical office setting and will be prepared to sit for the NHA national certification exam to become a Certified Medical Administrative Assistant (CMAA).
Internet Connection
Broadband or High-Speed - DSL, Cable, and Wireless Connections
*Dial-Up internet connections will result in a diminished online experience. Classroom pages may load slowly and viewing large audio and video files may not be possible.
Hardware Requirements
Processor - 2GHz Processor or Higher
Memory - 1 GB RAM Minimum Recommended
PC Software Requirements
Operating Systems - Windows 7 or higher
Microsoft Office 2013 or higher. Also, you could use a general Word Processing application to save and open Microsoft Office formats (.doc, .docx, .xls, .xlsx, .ppt, .pptx)
Internet Browsers - Google Chrome is highly recommended


Cookies MUST be enabled
Pop-ups MUST be allowed (Pop-up Blocker disabled)

The Kindle Reader App or VitalSource Bookshelf App are needed for many of our courses (No special equipment needed. This can be downloaded for FREE onto your computer.)
PowerPoint Viewer (if you do not have PowerPoint)
QuickTime, Windows Media Player &/or Real Player
MAC Software Requirements
Operating Systems - Mac OS x 10 or higher with Windows
Mac office programs or a Word Processing application to save and open Microsoft Office formats (.doc, .docx, .xls, .xlsx, .ppt, .pptx)
Internet Browsers- Google Chrome is highly recommended


Cookies MUST be enabled
Pop-ups MUST be allowed (Pop-up Blocker disabled)

The Kindle Reader App or VitalSource Bookshelf App are needed for many of our courses (No special equipment needed. This can be downloaded for FREE onto your computer.)
PowerPoint Viewer (if you do not have PowerPoint)
Adobe PDF Reader
Apple QuickTime Media Player