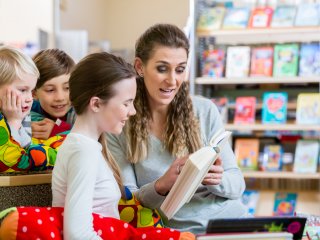 Description
Objectives
Outline
Materials
Certification
System Requirements
Watch a Demo
Love working with children and want to learn techniques for supporting their development? Our Child Care Worker course provides practical advice to prepare you for your role as an educator of young children. Learn the principles of providing ultimate learning environments, developing engaging curricula for various developmental stages, meeting children's social-emotional needs and interests, and communicating and interacting with parents and staff professionally. This course covers the historical influences on early childhood education as well as quality standards for programs and types of curriculum methods. It also includes learning strategies and guidance to enhance physical, cognitive, language, social-emotional, and creativity development.
After completing this course, you should be able to:
Recognize the historical influences on early childhood education, as well as assessment methods and evaluations for quality standards
Identify the basics of the early education domains, how to support learning and play and the concepts of different types of curriculum
List the basics of learning theories and teaching strategies
Recall how to provide effective learning environments for children while connecting with families and communities
Recognize issues in early childhood education and how to advocate for young children, as well as discovering various career options in the field
Child Care Worker Module 1
Foundations of Early Childhood Education
What is Early Childhood Education?
How Early Childhood Education is Valued
Early Intervention and Early Childhood Special Education
The Culture of Early Childhood Education
Program Quality and Measuring Effectiveness
Positive Effects of Prekindergarten and Child Care
The Teacher's Role
What Education Is
Child Care Worker Module 2
Developmentally Appropriate Practices 
What is Developmentally Appropriate Practice?
Current Issues in Developmentally Appropriate Practice
Intentional Teaching
Teacher's Role in Context
Understanding Development and Learning
The Role of Theory
Brain Development
Erikson's Psychosocial Theory of Human Development
Child Care Worker Module 3
Learning and Developing
Understanding Individual Differences
The Influence of Biology on Development
Nature and Nurture
Risk or Resilience
Physical Development
Cognitive Development and Abilities
Emotional and Social Development
Inclusion
Role of Culture in Development
Linguistic Diversity
Verbal and Nonverbal Communication
Child Care Worker Module 4
Building Partnerships with Families and Guiding Young Children
Family Dynamics
Family Systems Theory
Challenges for Families
Reciprocal Relationships with Families and Family-Centered Practices
Barriers to Effective Communication
Community Partnerships
Developing Social Skills and Self-Regulation
Promote Academic Success
Family Relationships: Attachment Theory
Positive Behavior Support
Child Care Worker Module 5
Planning Effective Curriculum 
The Science of Teaching
Classroom Organization
Research-Based, Effective Teaching Strategies
Giving Quality Feedback
What is Scaffolding?
Effective Teaching with Digital Media
What is Curriculum?
Research-Based Curriculum
Components of Effective Curriculum
What are Standards?
Child Care Worker Module 6
Assessments and Teaching Communication 
Learning the Language of Assessment
Formative and Summative Assessment
Informal and Summative Assessment
Observation
Standardized Testing
Screening
Diagnostic Testing
Developmentally Appropriate Assessment
Children's Language Development
Critical Importance of Language Development
Types of Language
Scaffolding
Building Listening Comprehension
Phonological Awareness
Phonemic Awareness
Reading Comprehension
Child Care Worker Module 7
Investigating, Problem Solving, and Social-Emotional Learning 
Importance of Mathematics and Science
Cognitive Foundations of Early Learning
Continuum of Cognitive Development
Language of Math
Language of Science
Effective Science and Engineering Curriculum and Teaching
Social-Emotional Foundations of Early Learning
Continuum of Social and Emotional Development
Social Development and Play
Social Studies
Child Care Worker Module 8
Putting It All Together in Practice 
Importance of Physical Fitness and Health
How Physical Development Occurs
Motor Development
Effective Health Curriculum and Teaching
Life as an Early Childhood Educator
Considerations for Teaching
Professional Standards
Joy of Teaching Young Children
**Outlines are subject to change, as courses and materials are updated.**
Ed4Career is committed to being both environmentally conscious and making it easier for you to study! We're making your education mobile! All of our textbooks are now provided as eTextbooks. You can access them on your laptop, tablet, or mobile device and can study anytime, anywhere.
The move away from physical books to eTextbooks means you get the latest, most up-to-date version available. This also makes your training more accessible, so you can study anywhere you have your phone or tablet. The best part is that all materials are included in your training cost so there are NO extra fees for books!
Upon successful completion of this course, students will be prepared to sit for the NCCB's Certified Child Care Worker (CCCW) exam.
Internet Connection
Broadband or High-Speed - DSL, Cable, and Wireless Connections
*Dial-Up internet connections will result in a diminished online experience. Classroom pages may load slowly and viewing large audio and video files may not be possible.
Hardware Requirements
Processor - 2GHz Processor or Higher
Memory - 1 GB RAM Minimum Recommended
PC Software Requirements
Operating Systems - Windows 7 or higher
Microsoft Office 2013 or higher. Also, you could use a general Word Processing application to save and open Microsoft Office formats (.doc, .docx, .xls, .xlsx, .ppt, .pptx)
Internet Browsers - Google Chrome is highly recommended


Cookies MUST be enabled
Pop-ups MUST be allowed (Pop-up Blocker disabled)

The Kindle Reader App or VitalSource Bookshelf App are needed for many of our courses (No special equipment needed. This can be downloaded for FREE onto your computer.)
PowerPoint Viewer (if you do not have PowerPoint)
QuickTime, Windows Media Player &/or Real Player
MAC Software Requirements
Operating Systems - Mac OS x 10 or higher with Windows
Mac office programs or a Word Processing application to save and open Microsoft Office formats (.doc, .docx, .xls, .xlsx, .ppt, .pptx)
Internet Browsers- Google Chrome is highly recommended


Cookies MUST be enabled
Pop-ups MUST be allowed (Pop-up Blocker disabled)

The Kindle Reader App or VitalSource Bookshelf App are needed for many of our courses (No special equipment needed. This can be downloaded for FREE onto your computer.)
PowerPoint Viewer (if you do not have PowerPoint)
Adobe PDF Reader
Apple QuickTime Media Player