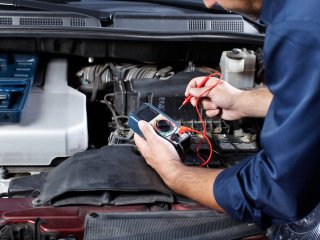 Description
Objectives
Outline
Materials
Certification
System Requirements
Watch a Demo
This Automotive Technician (ASE) series covers automotive theory and the service and repair of various systems of the automobile. This course prepares students for a successful career as an Automotive Technician by outlining the automotive industry, the role of the Automotive Technician, and steps for diagnosing and servicing all automobile systems. Learn necessary knowledge to gain employment in the automotive industry with up-to-date content including electronic automatic transmissions, preventive maintenance, and hybrid vehicles. Our automotive technology course is everything a student needs to know to diagnose, service, and maintain automotive systems.  
After completing this course, you should be able to:
Identify the components, service and maintenance of manual transmissions
Recall the components, service and maintenance of automatic transmissions
Recognize the components, service and maintenance of suspension and steering systems
Define methods for servicing brake systems
List methods for servicing heating and air-conditioning systems
Automotive Technology Level 3 Module 1  
Manual Transmissions and Transaxles
Clutches
Clutch Service & Maintenance
Clutch Problem Diagnosis
Transmission vs. Transaxle
Basic Gear Theory
Transmission Power Flow
Lubricant Check
Cleaning & Inspection
Assembly of Transmission/Transaxle
Front-Wheel-Drive (FWD) Axles
Types of CV Joints
Differentials & Drive Axles
Automotive Technology Level 3 Module 2    
Automatic Transmissions and Transaxles
Torque Converter
Hydraulics in Transmissions
Pressure Boosts
Hybrid Transmissions
Testing of Inputs & Actuators
Basic Diagnostics
Fluid Leaks
Road Testing Vehicles
Vacuum Control Systems
Four-Wheel Drive Systems
Transfer Case
Interaxle Differentials
Automotive Technology Level 3 Module 3  
Suspension and Steering Systems
Tires & Wheels
Tire Ratings & Designations
Tire/Wheel Assembly Service
Suspension System Components
Independent Front Suspension
Active Suspensions
Power-Steering Systems
Steering Systems Diagnosis
Four-Wheel Steering Systems
Wheel Alignment
Alignment Equipment & Machines
Performing an Alignment
Automotive Technology Level 3 Module 4
Brakes
Brake Systems
Friction
Hydraulic Systems Service
Drum Brakes
Brake Shoes & Linings
Wheel Cylinder Inspection
Disc Brakes
Caliper Inspection & Service
Rotor Service
Antilock Brake
Traction Control
Stability Control Systems
Automotive Technology Level 3 Module 5  
Passenger Comfort and Stability Control Systems
Heating & Air Conditioning
Ventilation Systems
Refrigerants
Compressors & Condensers
Evaporator
Service Precautions
Initial System Checks
Performance Testing
Leak Testing
Emptying the System
Recharging the Systems
Climate Control Systems
**Outlines are subject to change, as courses and materials are updated.**
Ed4Career is committed to being both environmentally conscious and making it easier for you to study! We're making your education mobile! All of our textbooks are now provided as eTextbooks. You can access them on your laptop, tablet, or mobile device and can study anytime, anywhere.
The move away from physical books to eTextbooks means you get the latest, most up-to-date version available. This also makes your training more accessible, so you can study anywhere you have your phone or tablet. The best part is that all materials are included in your training cost so there are NO extra fees for books!
Upon successful completion of the Automotive Technology course series, students will be prepared to sit for the Automotive Service Excellence (ASE) national certification exam to become a Certified Automotive Technician.
Internet Connection
Broadband or High-Speed - DSL, Cable, and Wireless Connections
*Dial-Up internet connections will result in a diminished online experience. Classroom pages may load slowly and viewing large audio and video files may not be possible.
Hardware Requirements
Processor - 2GHz Processor or Higher
Memory - 1 GB RAM Minimum Recommended
PC Software Requirements
Operating Systems - Windows 7 or higher
Microsoft Office 2013 or higher. Also, you could use a general Word Processing application to save and open Microsoft Office formats (.doc, .docx, .xls, .xlsx, .ppt, .pptx)
Internet Browsers - Google Chrome is highly recommended


Cookies MUST be enabled
Pop-ups MUST be allowed (Pop-up Blocker disabled)

The Kindle Reader App or VitalSource Bookshelf App are needed for many of our courses (No special equipment needed. This can be downloaded for FREE onto your computer.)
PowerPoint Viewer (if you do not have PowerPoint)
QuickTime, Windows Media Player &/or Real Player
MAC Software Requirements
Operating Systems - Mac OS x 10 or higher with Windows
Mac office programs or a Word Processing application to save and open Microsoft Office formats (.doc, .docx, .xls, .xlsx, .ppt, .pptx)
Internet Browsers- Google Chrome is highly recommended


Cookies MUST be enabled
Pop-ups MUST be allowed (Pop-up Blocker disabled)

The Kindle Reader App or VitalSource Bookshelf App are needed for many of our courses (No special equipment needed. This can be downloaded for FREE onto your computer.)
PowerPoint Viewer (if you do not have PowerPoint)
Adobe PDF Reader
Apple QuickTime Media Player